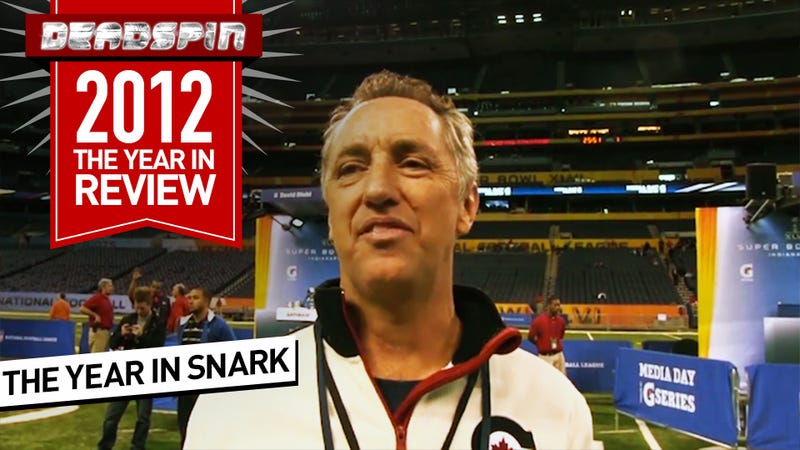 We said a lot of mean things about other writers and media personalities this year. We're dicks like that. Here's a collection of our best put downs.
Mitch Albom: Fun-sized poetastering fabulist Also: The meat in baseball's dumbfuck stew
Skip Bayless: Muggs Garroway
Lynn Hoppes: Cupcake Wars correspondent
Bruce Arthur: Milquetoast
Sports By Brooks: Chief Inspector Brooks
Mike Greenberg: ESPN's DJ 3000
Dan Levy: Self-appointed ombudsman of everything
Will Leitch: Garrison Keillor without jokes
Pete Prisco: Odious anti-union propagandist
Colin Cowherd: Facelifted race-baiting honky
David Whitley: Racist dicktroll
Jay Mariotti: Hungover community-college theater instructor
Rick Reilly: $3 million "shitty golf jokes" beat writer
Darren Rovell: Talking haircut
Jason Whitlock: Asian penis expert
Tony Siragusa: A crude, Fox Sports-ready copy of the infinitely more agile-footed Artie Donovan's routine.
Mike Wilbon: Gutless, starfucking crybaby troll
Sean Gregory and Peter King: Cheerleaders tugging at either arm of Roger Goodell's letter jacket
Dan Rafael: Supremely inoffensive teetotaler
Adam Schefter: Irresponsible blogger
Maureen Dowd: Hack editorial cartoonist
Tom Jackson: Us Weekly body language expert
Terry Bradshaw: Idiot doofus
Skip Bayless: A lamentable thing
Chaz Scoggins: Luddite
Mike Florio: Shill
Rob Parker: Member of ESPN's stable of chuckleheads
Hawk Harrelson: Shameless homer
Thomas Lake: "Magazine writer"
John Feinstein: Farter of mediocre books
Lenny Palumbo: Kook with a poorly-Xeroxed newsletter
Matt Millen: Butt steak
Chris Broussard: Perpetual late-comer
Reggie Miller: Exists to worsen the TNT telecast
George Will: Tory Muppet
Mike Francesa: Sports-talk blowhard
Phil Mushnick: OG Troll
Gregg Easterbrook: Haughty dipshit
Bill Polian: A high schooler given the "con" side in debate club
Mark Schlabach: The high school principal from Reefer Madness
Rodney Harrison: Lost his sense of humor at the bottom of an HGH bottle
Rick Telander: Crazy person
Joe Schad: So jacked
Jim Rome: Teeny tiny reporter