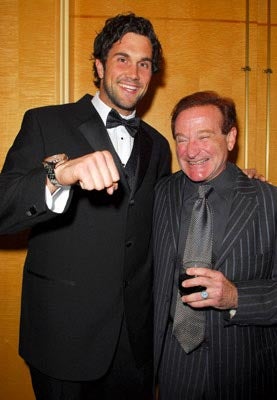 • Way to go, Iraq! Oh, sorry.
• Pujols, Pop-A-Shot.
• Gilbert is funny when he takes other people's jokes.
• Quiet, Deion.
• The live report from the Arena Bowl.
• Pete Rose is charming.
• Ow ow ow.
• Pac Man Jones, rasslin'.
• We're map happy!
• Goodnight, ESPN.
• Matt Leinart is optimistic about the Buzzsaw's chances.
• Goodbye, Bill Walsh.
• The Green Bay Packers have their finger on the pulse of the Internets.
That'll do it for us, folks; Unsilent Majority is your navigator through another weekend of glory, hope and good cheer. Those in DC for the Pants Party, be safe out there, and get the Cards a sweep, would ya? Be safe out there, and we'll see you Monday.