For nearly two decades, Sports Illustrated has stirred the tea leaves to discern a weekly Sign of the Apocalypse. Deadspin salutes the magazine's ongoing effort to cover the end of times but declines to cede the scoop on the biggest event in world history.
Here's SI's Sign of the Apocalypse this week:
In an effort to raise funding, the Voukefalas amateur soccer club in Larissa, Greece, has signed two local brothels as sponsors and is wearing their logos on pink practice jerseys.
The introductory clause is the most unintentionally awesome part of this supposed SotA. Why, of course every sponsorship is "to raise funding," right? Or is this to clarify that it wasn't merely to ingratiate themselves with the madams? Either way, the move by an amateur European soccer club to so flagrantly associate with sex workers is truly a red flag that reads "end times ahead."
We at Deadspin similarly noticed signs of the Apocalypse this week. NFL tight end Chris Cooley tried to get the Redskins to write a case of beer into his new contract. A wannabe college football player broke his arm and leg when his brother hit him with a car in an attempt to videotape him jumping over it. Lawrence Taylor admitted in a deposition that he swung a used condom around his head "like a lasso" after finishing two-minute sex with an under-aged partner. Hell, and that was all just Thursday's news.
G/O Media may get a commission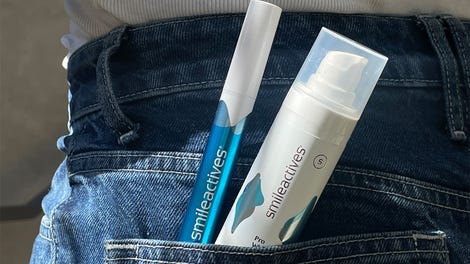 58% off
Whitening Powerhouse Pen & Gel Duo
But here's what we settled on as our SotA this week:
At least 58 people were killed when Hurricane Sandy smashed through the Caribbean this week, leveling thousands of homes and taking aim at America's East Coast, prompting at least six governors to declare states of emergency.