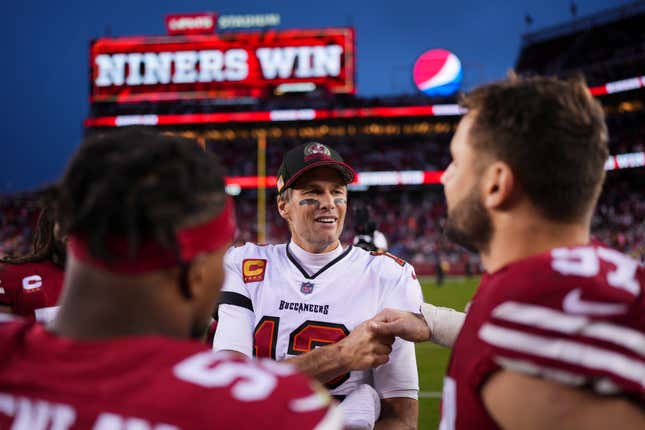 Updated Feb. 1, 2023 at 9:00 a.m.: Tom Brady announced his retirement — we'll see how long that lasts — via Twitter.
The best wide receiver over 40? | Tom Brady Stats That Will Blow Your Mind
Has Tom Brady really been hanging around in the NFL all this time just to one day play for the San Francisco 49ers? If there was ever a year to play for his childhood favorite team, the 2023 season might be the year for all the stars to align between the Niners and one of Joe Montana's biggest fans. Adam Schefter reported on Monday that Brock Purdy suffered a torn UCL in his throwing elbow during San Fran's NFC Championship Game loss to the Philadelphia Eagles. The opinion from the team medical staff is that he does not need surgery. Purdy is seeking a second opinion.

Injuries in the 49ers QB room
Going into next season the 49ers will have two quarterbacks on their roster who will be coming back from serious injuries. One was the final selection in the previous NFL Draft — Purdy. The other is Trey Lance, their 2021 first-round pick who has undergone two surgeries since breaking his leg in Week 2. Jimmy Garoppolo was San Francisco's starter for most of this season after the team originally didn't want him back. He will be a free agent and is still recovering from a broken foot.
G/O Media may get a commission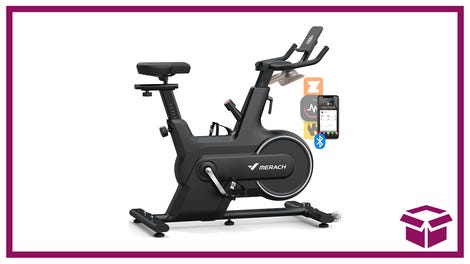 14% off + Coupon
Merach Indoor Cycling Bike
The 49ers' roster has been of championship caliber since 2019. They have played in three of the last four NFC Championship Games, and the one they missed during the 2020 season was due to a rash of injuries they weren't able to overcome. Throughout this entire run with Kyle Shanahan and John Lynch in charge of the 49ers, they have brought in stars at every position except for quarterback. Lynch took over as general manager in 2017, they didn't re-sign Colin Kaepernick, and decided at least two years ago that Garoppolo wasn't the answer.

Could Tom Brady be the answer, despite being 45?
Championship windows in the NFL can sometimes close abruptly and unexpectedly. Brady struggled last season both professionally and personally, but the Buccaneers' offensive line was subpar and they couldn't run the ball. Put Brady behind the best offensive tackles of all time along with a dynamic rushing attack and one of the best defenses in the NFL, and maybe this iteration of the 49ers could finally finish the job. The Bay Area kid could bring home the franchise's first championship since his senior year of high school.
On the other hand, Brady turns 46 years old this summer. In 2019 the 49ers thought about signing Brady in after he left the New England Patriots, but here's Lynch's exact quote: "We really like what we have in Jimmy. We love everything that he brings and we really believe it's a long-term answer."

That was after the 49ers blew that double-digit lead to the Chiefs in the Super Bowl. A year later, the 49ers traded their 2022 and 2023 first-round picks to select Trey Lance. In the sole season in which he spent an offseason preparing as a starter, he played in an opening week monsoon, and broke his leg in the first half of a Week 2 game.

If the 49ers were interested in Brady the time to bring him in was 2019. Yes, it would've likely meant they were out on Garoppolo, but he played six total games the next season and then his replacement was drafted. Now there is a ton of draft capital tied up in Lance, and Brady is three years older, and he also showed an unwillingness to take punishment in the pocket, especially as the season wore on. The 49ers are looking to win a Super Bowl. Brady is going to have to eat some dirt at critical times in order to make that happen.

The story of the local kid returning home to lead a legendary franchise back to glory would be the perfect ending for Brady's career, and honestly the only on-field achievement that he hasn't accomplished. But for the 49ers, it's not worth it. It's not worth the money, and going into another year not knowing what they have in Lance.

Brady back in the Bay is a great story, but one the 49ers need to make sure remains a "what if," for eternity.