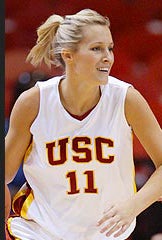 A.J. Daulerio's Cultural Oddsmaker runs ever Friday. Email him to let him know what you think.
With Brynn Cameron spending the upcoming season giving birth to Matt Leinart's love child, NCAA women's college basketball just got 55 percent less attractive. And some of you may think Cameron's pregnancy as shocking, given the fact that she's, well, a basketball player. Why didn't Leinart bang a cheerleader? Or a soccer player? Or someone from the swim team?

I'll enlighten: Women's college basketball players are historically the trampiest athletes out there. Most of these gals were considered too freakish (and intimdating) in high school to garner any normal attention. But once they attend college, they make up for all of those humiliating days in junior high wearing their older brother's track shoes by engaging in as much humping as possible once they hit campus. Think about it. Think about your school. Think about the hottest female basketball player on your team (who probably wasn't that hot, comparatively) and think about how she always seemed to be involved in the most tawdry sexual rumors circulating throughout campus. Even at La Salle University, I remember our best female college player, who was quite homely looking, had the nickname "Choo-Choo" due to how many times she rode Lionel "L-Train" Simmons in the locker room (in front of other players, apparently) during her freshman year.

So, I'm waking my mysoginistic id, spit-shining my speculum, and placing odds on the next long-legged lassie to to take some time off for "personal reasons." After the jump.