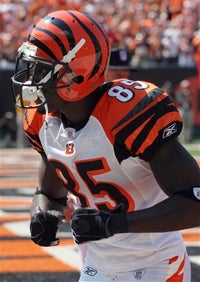 So, we are sad to report that we did not make it to Bengals wide receiver Chad Johnson's dramatic interpretation of the chicken dance at Cincinnati's Oktoberfest on Saturday afternoon; we figured by the time we actually made it downtown, we'd be too far away to see anything but the tip of Johnson's blondehawk. Turns out he shaved a bunch of mohawks for Bengals' fans, and that's another reason we didn't go: We can imagine being fired up enough by the chicken dance to get one.
We did, however, make it to Paul Brown Stadium yesterday for the Bengals' sloppy but still convincing 34-17 win over the Browns; it was our first NFL game in nearly seven years, a gap we suspect is not unusual. Some thoughts from our trip:
• Chad Johnson almost died, like, four times in this game. The brutal (and totally unnecessary) hit late in the game bloodied him up, but honestly, who else but Chad Johnson would injure his shoulder on a touchdown and still insist on doing a dance that even the elderly feel dopey doing at weddings?
• Cincinnati is in the grips of a severe Bengals flu: Before the game, there was a 45-minute line just to buy merchandise. It doesn't help that the stadium is so poorly designed that, in the event of a terrorist attack, it could be evacuated in about four to five days.