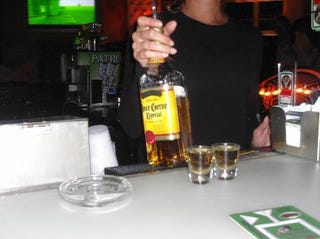 Deadspin "correspondent" AJ Daulerio is filing dispatches from the Super Bowl all week. Here's his newest one, after a night out on the town.
One of the saddest parts about oversleeping in a hotel is realizing that you missed the Continental Breakfast. You stroll into the lobby and have this sinking feeling that everybody else milling around the lobby has accomplished so much more with their mornings than you have. You see people in bathing suits, children prancing around with brochures and hordes of other vacationers checking in with all of their luggage on wheels. This is how I felt — initially — but I soon realized/remembered that the Continental Oceanfrontviewship has no Continental breakfast, even though its name suggests it. Unless, of course, the army of Spanish children jumping around the lobby is the breakfast. That would be bad. But I must admit, when you get home at 5:24 a.m., those little ninos screaming and yelling with their Alligator Alley brochures wouldn't be so bad to eat with a side of wheat toast and coffee — or whatever this sludgy, espresso-like concoction is.
It is in this moment of dread, of worthlessness and sifting through text messages from last evening that I attempted to answer by, it appears, typing with my face, it's clear that last night seemed to accomplish nothing but shameless abuse of an expense account — with my, ahem, attorney present at all times, of course — unless you consider 12 shots of Patron/Cuervo at The Deuce and some other dirtbag place a good use of time.
However, when I finally checked my mailbox at 10:14 a.m. this morning, I realized that a lot can be accomplished when you have little or no agenda during Super Bowl week. And you can make dreams come true for a small football salami maker in Michigan: