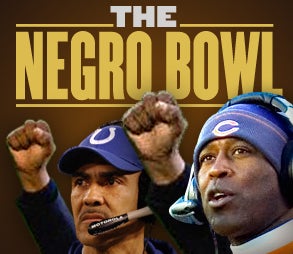 As you might have heard from a media outlet or two, this is a historic Super Bowl because it features two African American head coaches for the first time.
We decided to dig deep into this story, rather than just let it simmer, so we asked our friend The Assimilated Negro, author of the Ghetto Pass column for Gawker and occasional Free Darko correspondent, to file a series of reports about the Negro Bowl, its significance and whatever else might tickle his proverbial fancy. This is the final installment. The graphic is by the great Jim Cooke, by the way.
Thanks Will.
Well, as we tie the noose around our coverage of Negro Bowl I, we have to say it's been an interesting ride. We've had ups and downs, we've laughed and cried, and through it all we've enjoyed the sound of freedom ringing.
We've also learned some things:
1. African-American are just Americans in Europe.
2. Negro Bowl might be more important than Oprah ("forget about Oprah, man!")
3. Negro Bowl is not nearly as important as hanging Bill Simmons upside down and putting a fork in his ass.