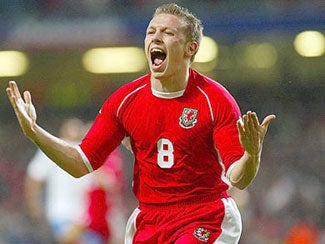 David Hirshey writes regularly for Deadspin about soccer.
Several years ago, on a pub crawl with friends, I stopped for a nightcap at a bar called The Parlour on the Upper West Side of Manhattan. The place was festooned with posters and memorabilia from the bar's favorite soccer team, Glasgow Celtic, as well as a table of young ladies who looked like they had enjoyed a pint or six during the evening and wouldn't object to a bunch of guys buying them another round.
One thing led to another, and I found myself regaling a sodden brunette in tank top and low-riding jeans about the time I took a leak next to Bruce Springsteen in the bathroom of a movie theater.
"Wow," she gasped, leaning closer. "So how was he?"
"Very nice," I replied, "I told him I loved his music, and he thanked me."
"No, I mean how was he DOWN there," she burbled.
"Sorry," I said. "Men don't look."

I sensed her disappointment, and, sure enough, she soon wandered away from the table. Then there was a commotion at the front of the bar, the music started up and she reappeared with a microphone. Oh fuck, I thought to myself, I've stumbled into Karaoke Hell. Worse, the song she was singing was "Born To Run."
(more after the jump)
All of a sudden, she stuck the mike in my face. "No thanks," I told her. That was a mistake. She became more insistent. I begged off again, saying, "As much as I love the Boss, I can't carry a tune."
"That's okay," she slurred into the microphone, "you can tell us about his dick."
"I told you, I never saw it," I said, glancing nervously around the room.
"Yes you did, you homo."
Now I know how John Amaechi felt riding the bus with Jerry Sloan and the Utah Jazz. Suffice it to say that I yelled "Check, please" shortly thereafter and have not been to a Karaoke Night ever since.
But it wasn't until this weekend that I realized how lucky I was to escape without having my legs battered with a golf club. By now, you've surely heard of Liverpool's team-bonding night out on the town that ended with the neckless thug Craig Bellamy grabbing a putter and doing a Nancy Kerrigan on his teammate John Arne Riise after the Norwegian defender demurred in joining Bellamy on stage.