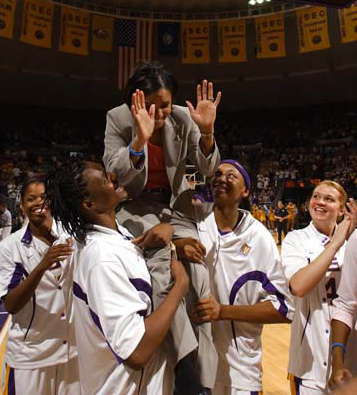 AJ Daulerio's Cultural Oddsmaker runs every Friday. Email him to let him know what you think.
The curious case of former LSU women's coach Pokey Chatman's retirement due to an alleged "inappropriate relationship" with one of her former players should be an eye-opener for the NCAA. The sordid details have yet to unfold — nor the name of the player — but it's safe to assume that relationships happen all the time and will continue to do so unless some sweeping behavioral changes are made; I'm sure we'll see more and more current and former women's basketball players step forward with similar stories in upcoming months. Remember what happened with the Catholic Church. It wasn't that long ago that priests were still reverential and safe, and not pedophiles with ban collars and black robes.
Of course, this is different because most of these girls are of legal age, but given a coach's position of power, the appropriateness of the behavior can still cause some emotional damage. And as I've've stated in a previous column,, a good portion of these girls are probably easy marks. But it's also not easy to recognize when a line is crossed. I've never had a coach do anything particularly shady, but there was a swimming coach in my high school that, not until a few years ago, did I realize there was anything wrong with his sophmore "swim class."