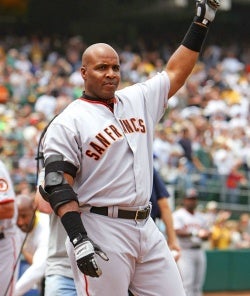 As long as Minor League Baseball has general managers willing to put out comedy press releases, Barry Bonds and Roger Clemens will always have job offers. Last week we told you about the Huntsville Stars' offer to make Clemens their backup mascot. Then on Wednesday, Bonds — who wants to play in the majors but has had zero bites — got a similar offer from the Lake Elsinore (Calif.) Storm.
The slugger did get one offer Wednesday, to work in media relations for a minor league team. The Lake Elsinore Storm, a Class-A affiliate of the San Diego Padres, released a tongue-in-cheek statement announcing that the club has offered Bonds "a cushy Media Relations position (with slight pay cut from $19.3 million), full use of baseball facilities and of course expanded cubicle space with barcalounger and plasma TV."
But seriously, folks, the MLB Players' Union has decided to investigate the fact that Bonds has had no offers to play in the majors. I'd venture to guess that one reason might be that Federal prosecutors are about seek a new indictment on him. Can you blame owners for being a little shy?
But back to the Storm's offer: How could Barry not want to wear this hat?
Bonds Gets Job Offer — In Media Relations [MSNBC]
Union Looking Into Bonds Snub [SFGate]
Feds Will Seek New Bonds Indictment [MSNBC]
Roger Clemens' Next Employment Opportunity [Deadspin]
Lake Elsinore Storm