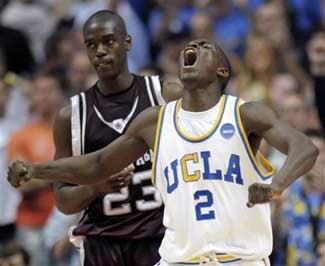 Now that we are down to just sixteen teams, STF will profile each Regional lineup to see how we got here, what the Sweet 16 really means to each participating school, and who has the best chance to advance to San Antonio. The first of two today, here's the West.
West Virginia vs. Xavier, Thursday 7:10 pm
#7 West Virginia Mountaineers
Last Weekend: Defeated #10 Arizona 75-65 , defeated #2 Duke 73-67
How WVU Got Here: In pretty impressive fashion, actually. No first-round patsies for a #7 seed, but Bob Huggins and his 'Eers didn't flinch. Alex Ruoff shot the lights out in the first round, and his team followed suit, hitting 58% percent of their three-point tries. Four starters ended up in double figures in that game, as a talented but directionless Wildcat team was sent packing. Against Duke, it was a somewhat different story, as Joe Alexander took advantage of the soft Blue Devils to the tune of 22 points and 11 rebounds. All that was missing was the sound of dueling banjos.
What the Sweet 16 means to the Mountaineers: It's time to throw out the "NIT Champs" T-shirts. It also means that the Morgantown faithful will feel completely justified in doing whatever it took to hire Bob Huggins, with all of the attendant slime. When Huggins uses this exposure to recruit his own guys, look out. That creep can roll, man.
Chances to Reach San Antonio: Assuming they get past X, it still seems incredibly unlikely, with UCLA looming as a possibility. If the superior talent doesn't get them, the referee malfeasance will.