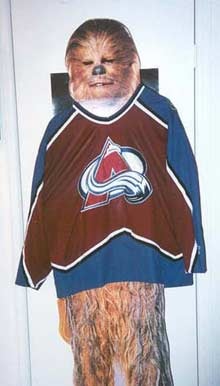 The NHL Closer is written by Greg Wyshynski, of FanHouse and The Fourth Period. He is also the author of Glow Pucks And 10-Cent Beer.
What a gratifying night of pucking. Nashville pulls off a Frank Wycheck-level miracle. The Capitals win their first playoff game since 2003. The Oilers are dead, Ottawa's shitting the bed, and I'd give Zach Parise a hug if it weren't journalistically and heterosexually irresponsible. But sir, nobody worries about upsetting Vancouver. And that's because Canucks don't pull people's arms out of their sockets when they lose. Colorado is known to do that. I'd suggest a new strategy, R2: Let the Wolski win.
I wouldn't call this an official prediction, but rather a conclusion drawn from empirical evidence: If Peter Forsberg is healthy, Colorado will win the Western Conference. The Avs are now 7-1 when the Puck Messiah is in the lineup; the problem is that he's so damn porcelain at this point in his career that he may never play five consecutive games again. Floppa had the clincher in last night's 4-2 win in Vancouver, scoring his first goal since giving up a life of sipping chilled Svedka in a Swedish mountain spa for the chance to give old man Sakic one more ring. But it was the one-two cock-punch of Milan Hejduk's goal — thanks to a little unpunished Paul Stastny interference on Luongo — followed by Wojtek Wolski's game-winner 35 seconds later that killed the Canucks and clinched a playoff berth for the Avs. Vancouver's toast if it keeps making the mistakes it made against Colorado; and if they do, the Canucks might discover their fans can talk shit on their local boys as well as they do on the visitors.
To Catch the Predators. Nashville moved into the eight seed with a miraculous 4-3 overtime win in St. Louis last night. Dan Ellis, the team's backbone in goal for most of its run this year, was chased by three fairly soft Blues goals in the first period. Deposed starter Chris Mason comes in and it's Stonewall Jackson time - 10 saves on 10 shots, allowing Jordin Tootoo and Vernon Fiddler to complete a comeback to tie the game, and then some guy named Rich Peverley to net the game-winner in OT. Peverley's got 44 NHL games under his belt and has played most of the season, but honestly I don't think I've ever typed his name before. All I know is that he's from a place in Ontario named Guelph, which I believe is the sound you make when you violently belch with a mouthful of mashed potatoes.
Nashville did catch a mighty big break last night, as Jay McKee appeared to have put the Blues back on top after Fiddler's game-tying goal but it was waived off due to goalie interference. I've made it no secret that I'd rather not see Nashville make the postseason cut, but last night's effort had me thinking otherwise. Although, in the end, Rachel from HLOG said it best: "They're the team that everyone wants to hate and root against because that just seems like the right thing to do."