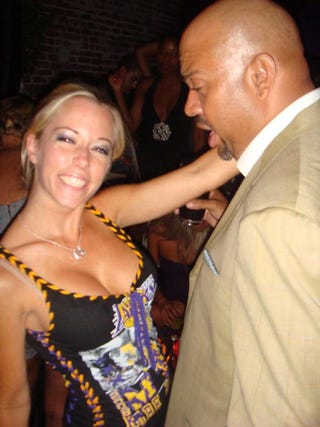 Michael Wilbon chatted with Washington Post readers today, and he addressed those brilliant porn star pictures. The good humor he had on "PTI" about it? That's gone.
Not that you should trust a porn star more than Wilbon, but his account differs somewhat from Christian the porn star's.
Herndon, Va.: Mr. Mike: On the good Mr. Kurtz's chat, someone was taking the Post to task for you "posing for pictures with a porn star" while covering the NBA finals. Did this actually happen? If so, who? Kurtz's only comment "I'm jealous."

Michael Wilbon: Ha...Anybody who would say that without knowing details is an idiot...And I thank my colleague Mr. Kurtz. So, here's the story. I'm at a club on the off-night of the series, in Hollywood...A young woman comes up, says she's a huge fan of PTI and watches the show every day because her boyfriend got her started watching it years ago. She says her name and asks, "I'd love a picture with you if it's okay." Of course, I say yes, just like I do 99 percent of the time (I don't recall ever saying no, unless I'm in an airport running for a flight or at a restaurant)...A guy comes over, introduces himself and says, "I don't think you know who she is, do you?" I say I have no clue, should I? And he tells me she and her friends are all adult film stars. I laugh out loud. He's an adult film director, he says, and has his own blog. I knew right then, with Jon Barry laughing in my ear, that the photos would be on a blog...And so what? What would the idiot who asked the question in the chat have me do, run up and threaten to smack her if she didn't give me the camera? People really are overly dramatic self-important idiots. Should I carry around a form for people to sign before I take a photo in a stadium or on the street after they tell me the appreciate what I do and would like a photo...I'm sure I've taken pictures, unknowingly, with people a lot seedier...People need to get a life.
Pictures with people a lot seedier? Ain't that the truth!
Michael Wilbon Chat [Washingtonpost.com]