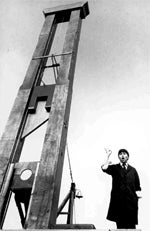 To keep the comments as fresh and outstanding as they've been up to this point, Commenting Guru Rob Iracane will write a bi-weekly Comment Ombudsman column. It runs every other week. This is that week.
Mr. Iracane is the guy who approves and deletes comments around here, and the fellow to whom you should address any comment account requests, and he will explore issues involved in commenting, what makes a great comment thread, what's working, what isn't, answer your questions, so on. We want the place to continue to be as much fun as it is every day, and it's not an execution thread like our friends at Gawker do. We like to be inclusive here, because if we're not, we'd be forced to rely on our own wit and knowledge, and that's a scary thought indeed.
So here's this week's column, on proper commenting relative to photos, is after the jump. Of course, don't be afraid to let him have it in the comments.
Let me get this right out in the open: new Deadspin editor A.J. Daulerio has granted me the ability to execute commenters, and I am going to take quick advantage of this ability. Mr. Daulerio does not hide behind a folksy, aw-shucks Midwestern sensibility. Rather, he has embraced the dark, cutthroat side of sportsblogging that permits the public humiliation of one's readers. The good news is that I'll be a little more lenient in letting in new commenters, so if you want an invite, send me an e-mail or go ahead and audition below to become a commenter.
Also, my sword will no longer be silent and I will broadcast the news to everyone once you have been killed off. Don't let the Gawker Media technical issues that bewilder us on a regular basis worry you too much; if you have trouble logging in, that doesn't necessarily mean your commenting privileges have been taken away. In fact, if you make duplicate comments about not being able to sign in because of some mythical hamster, I will not just ban you from commenting, I will track you down and slice your Achilles. If you have been banned, your personal page will show it like on the page of this recently executed
character.
On the other hand, the bad news is that my sword, not unlike the fabled Sword of Damocles, is hanging over each and every one of your heads. Yes, that means both superstar commenter Gourmet Spud and non-sequitur spewing UpstateUnderdog could both see their ability to share bon mots disappear at any moment. This won't necessarily put you out of commission permanently (I may have mercy on your soul if you are a good boy and repent) so consider it to be more of a detention.
Still, if you follow the rules and remember to be funny, you're not going to be executed any time soon. In fact, these commenters have received a week-long free pass since they made the Comments of the
Fortnight: