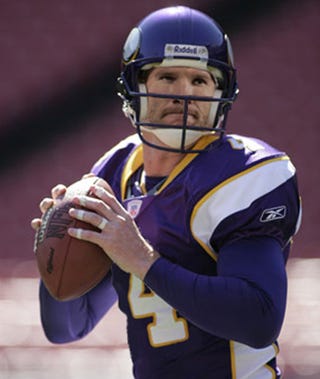 Drew Magary's Balls Deep column runs every Thursday afternoon. Drew's new book, "Men With Balls," featuring 100% new material, is available for pre-order here. You can email Drew here. Read him during the week at KSK.
This is a Photoshop of Brett Favre in a Minnesota Vikings uniform. Excuse me for a moment. I have to eject my entire digestive tract out of my body.
BRAAAAAHHHHHHHHHHH
That was fun. Favre, nee Favraro, has been in the media lately. This makes perfect sense, because we had just gone three whole blissful months without Favre being in the media. And, of course, that won't do. Favre has decided he wants to come back. Of course, he hasn't confirmed that he's coming back. That would take far too much decisiveness and leadership. Plus it would bring closure to the story. And what fun would that be?
Fucking indecisive piece of fuck.
No, no. Favre only wanted to HINT at idea that he was coming back, so that the media could spend weeks speculating over his return. And presumably so fat, slovenly Wisconsinites could write to him saying, "Please come back, Brett! And bring some whoopie pies with you!"
While Favre "ponders" coming back and lets the threat of his return loom over the team like a giant fart cloud for a few months, he has put the Packers in a position where they get utterly buttfucked no matter what choice they decide to make once Favre makes up his mind seven years from now. They can take Favre back, in which case Aaron Rodgers angrily bolts in 2009 and leaves the team bereft at the position. They can cut Favre, fire Favre, in which case they get nothing in return, along with having to live with the fact that they cut poor Brett. Oh, the indignity! He wanted to come back FOR LOVE OF THE GAME, but they wouldn't let him!
Douche.
Or they can trade Favre. Media law dictates that columnists evaluate every other NFL team as a potential landing spot for Favre. And a great many of them, even our own AJ Daulerio, have decided that the best fit for Favre is in one of two places. The first is Chicago, where Favre would become the New Old Sex Cannon. But the other one, the one most frequently mentioned, is Minnesota, which is my favorite team.