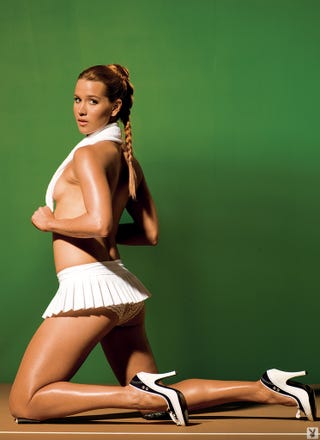 Lately, there's been much clamoring around the internet about tennis steamstress Ashley Harkleroad's upcoming Playboy spread this month. With good reason, of course. Based on her recent ESPN the Mag interview about the shoot, she seems affable, confident, and very into herself:
"I'm not a very modest person, so I was really feeling it. I was having a good time and trying to feel sexy in my own body; I think it worked. The pictures and the layout came out very classy. Playboy is a very classy operation all around. It was important to me, because I'm representing an athlete and her body, so I wanted it to come out showcasing that."
Yes, ma'am. Harkleroad hopes this shoot will "broaden" her profile and to let people know that she's not just another hot chick on the WTA. No, she's proud of her body and works hard for it, and it was probably a nice payday. Apparently, she saw Ana Ivanovic's relatively tame FHM cover shoot and raised her, well, full-frontal nudity. No word on whether this profile-broadening will help Harkleroad's world ranking, currently at 65.