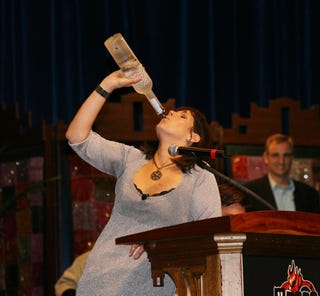 On a certain level, you have to like anyone who can
piss off Charlie Weis
, you know? Everyone forgets now that the Dana Jacobson story was actually broken by
an Atlantic City newspaper
. And she pretty much assured that ESPN won't be hosting anymore "celebrity" roasts. The above picture
didn't actually come out until a week-and-a-half
after the Mike-and-Mike roast — I will never, ever tire of Trey Wingo's reaction there — which was long after we knew
about "Fuck Touchdown Jesus."
She was suspended by ESPN for a week, but that didn't stop
protests from the Catholic League
. (Remember: If the Catholic League and that dope Bill Donohue
are angry with you
, you're doing something right.) I still think the picture, though, is what cinched Dana's nomination for the Deadspin Hall of Fame. I mean, can't you imagine how that plaque would look? But is she a Hall of Famer? Seventy five percent is the threshold for induction. Vote below: Polls will be open until next Monday afternoon.