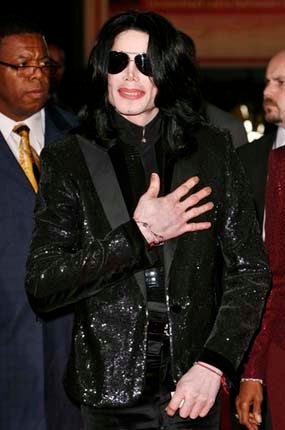 And so we come to the close of another Minor League Baseball season. And what a season it's been: We watched
babies enjoying beer
, were introduced
to the magical wonders of Wizard Cat
, and thrilled to the antics of
a giant, dancing taco
. The Macon Music announced with great fanfare,
and then cancelled
, their gala Eliot Spitzer Night. We even
chose a President
. My favorite promotion was probably
the Fresno Grizzlies' Totally Rad 80s Night
, in which
Karate Kid
bad boy Johnny Lawrence made his triumphant return. And don't forget
glow-in-the-dark caps
! But now the season ends as you suspected it might: with Michael Jackson's 50th birthday party, and midget wrestling. My only regret is that they couldn't figure out a way to combine these. Wait, actually, Michael did. But a jury voted for acquittal.Upcoming promotions:
Hockey Night
. Friday, Aug. 22,
Binghamton Mets
(Class AA Eastern League). The Mets combine forces with the Binghamton Senators of the American Hockey League to transform NYSEG Stadium into a hockey arena, complete with giant inflatable hockey helmet. Also, there's a slap shot competition.
Salute To The Metric System
. Saturday, Aug. 23,
Fresno Grizzlies
(Class AAA Pacific Coast League). In addition to theme night festivities, the first 2,500 fans will receive their first metric lesson of the night in the form of a Grizzlies collectible 473-mililiter cup (pint cup) presented by the American Lung Association. What could be more fun than a party based on weights and measurements?
Browns-Steelers Night
. Sunday, Aug. 24,
Mahoning Valley Scrappers
(Class A New York-Penn League). Niles, Ohio, home of the Scrappers, is located smack dab between Cleveland (70 miles away) and Pittsburgh (77 miles). So they'll honor both teams, with former Steelers wide receiver Louis Lipps and one-time Browns receiver Reggie Langhorne both in attendance. I see no way this could end in violence.
Midget Wrestling
. Aug. 28,
Ft. Myers Miracle
(Class A Florida State League). The most politically incorrect of all sporting events, as only Florida can stage it. The mighty mites grapple in the ring with the title belt on the line. Wait ... who's intro music is that? ...
Jack-o Turns 5-0
. Aug. 29,
Hudson Valley Renegades
(Class A New York-Penn League). Fans will be serenaded with Michael Jackson hits throughout the game, and participate in MJ-themed contests and trivia. All boys 12-under admitted free! (May not be true).
Jonathan Papelbon Bronze Statue Giveaway
. Sept. 1,
Lowell Spinners
(Class A New York-Penn League). I'm camping out on eBay one minute following the conclusion of this game.
Obama Wins Another Bobblection
. The
Quad Cities River Bandits
(Class A Midwest League) handed out Barack Obama and John McCain bobbleheads on Saturday,
with Obama prevailing in a bobbleslide
, 1,000 to 575. So Deadspin is calling Iowa for Obama.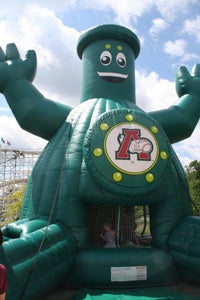 Mascot of the Week
. Steamer,
Altoona Curve
(Class AA Eastern League). Steamer eats children! The horror! [Thanks to
Eric Angevine
]