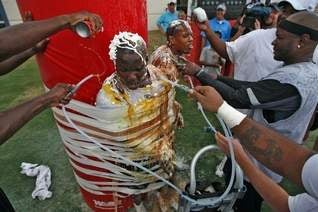 It's good to see that NFL hazing will never die. At least not until someone tears an ACL or suffocates while taped to a goal post. The Titans held their annual dizzy bat race for the healthy players . But they reserved their true scorn for the players who were too injured to participate in the dizzy bat race. Namely, Lavelle Hawkins and Cary Williams. Protest was futile. Per the Tennessean:
While Williams and Hawkins were tied to a pole by Bulluck, Albert Haynesworth and Rob Bironas, and soaked with everything from water and flour to mustard and ketchup for more than 10 minutes, the rest of the rookies endured the dizzy bat race.
It got dangerous out there. "At one point during the fiasco, Hawkins said he couldn't breathe. Tackle Jason Murphy, hoping to console the rookie receiver, responded: "Then how are you talking?'" Ah, football players. Such founts of respiratory knowledge.
Veterans haze Titan rookies
[Tennessean]