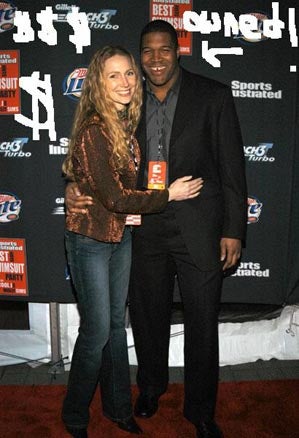 Perhaps this is what he meant when he said he was enjoying retirement and declined to rejoin the Giants . You'll recall that Strahan and his wife entered into a rather stormy split . Included, among other things, were allegations that Strahan was gay . In the end, Strahan's wife, Jean Strahan, received a judicial award of $18,000 a month in child support for the couple's twin daugthers. To be fair, the girls are currently three years old. And everyone with kids knows it's impossible to make do with twin three-year olds for anything less than 10k a month. Everyone except for the New Jersey appellate court, who found this amount of money both exorbitant and unfairly apportioned against Strahan . In pertinent part the appellate court found that the trial court did not make the appropriate fact findings to support raising Strahan's child support from the statutorily prescribed $35,984. In doing so, the trial court cited a seminal law school theory—the three pony rule. Namely, that "no child, no matter how wealthy the parents, needs to be provided [with] more than three ponies." I missed this damn question on the bar exam. I thought it was two ponies. But why did Jean Strahan need that much money for her twin daughters. Well, thanks to Law.com we can see what she needs to get by:
Those "needs," wrote Appellate Division Judge Lorraine Parker, included the children giving their nanny a 10-day vacation in Jamaica; diamond jewelry for their grandmother; $30,000 yearly for landscaping expenses; $36,000 a year for "equipment and furnishings"; and $3,000 yearly for audio visual equipment. Jean set their clothing needs at $27,000 a year, since the children needed new outfits every time they saw their father and one of them demanded a new purse every time she left the house.
$27k a year for three-year old twins? Right now some poor three-year old future boyfriend/husband is playing in his sandbox and has no idea what a holy hell his adult years are going to be. Grin now, little boy, grin now.
Three Pony Rule invoked to cut former NFL player's monthly 18k child support
[Law.com]