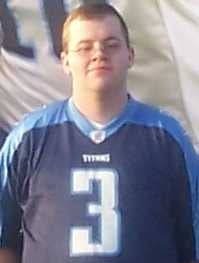 We're less than two weeks away from the start of the NFL season, so it's time to start the impassioned season previews from various writers, bloggers, diehard fans, cooks, TV personalities, and numerous other walks of life whom consider football the only sport worth watching. Today: The Tennessee Titans. Your video author is...Kige Ramsey.
For the past two years, I've brought the
Tennessee Titans preview to Deadspin
. But this year I decided it was time to pass the baton to a worthier Titans fan, the one and only Kige Ramsey. Initially Kige was reluctant to do a single team preview, "I've already done the AFC South," he said, "and I'm not sure I've got the time." But eventually he came around. So, after the jump, Kige breaks down the Titans. As a quick preview, "Touchdowns are important." Truer words were never spoke.