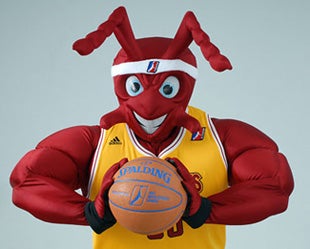 I've always said it: Deadspin will never really make it until we can count D-League basketball owners among our readership. Well now we've achieved that lofty goal. In an open letter in his blog on Thursday, Ft. Wayne Mad Ants co-owner Jeff Potter described last month's thrilling Deadspin Hall of Fame election in which his team mascot, the Mad Ant (known here as Nightmare Ant), was nominated, and then lost, in a vote of Deadspin readers. And in a chilling post-script, Potter vows that Nightmare Ant shall have his revenge. Writes Potter on his President's Blog :
Nightmare Ant seemed to go viral and became so popular that Deadspin nominated it to its hall of fame. For the Mad Ant to have made it, he would have had to have 75% of the vote. Sadly, like other great and worthy hall of famers (Art Monk, Andre Dawson, Hideki Irabu), he did not make it. An intense debate raged, as evidenced by the hilarious (and possibly offensive — depends on the reader) comments which followed, but Nightmare Ant could only gain 56% of the vote. Somewhere, Nightmare Ant weeps. All is not lost for the Mad Ant, however. First, he has a season coming up where he gets to show once again that he is the hottest mascot out there right now. Second, he can — as Nightmare Ant — exact his revenge upon all those who failed to vote for him. This will make those think twice of ever voting against him again.
Fun fact: The Mad Ants are actually not named for the insect at all. The name derives from General "Mad Anthony" Wayne, who achieved fame in the French and Indian and Revolutionary Wars, and for whom the city of Fort Wayne, Indiana, is named.
Nightmare Ant
[D-League Blogs]