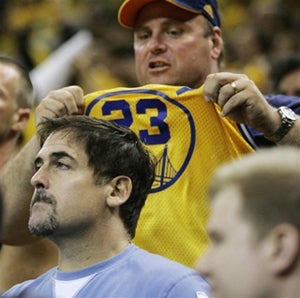 •
He Feels So Used ...
Mark Cuban is reportedly out of the bidding to purchase the Chicago Cubs, with Tom Ricketts remaining as the leading contender, according to Chi-ball Sports.
"It is a believed by these sources that Zell has used Cuban all along to increase the bidding. The orchestration could have gone as far as inviting Cuban to sit next to Sam Zell's right-hand man Gerry Spector at a Cubs game in the Tribune seats. A source is quoted as saying "If Mark Cuban didn't exist, Sam Zell would have made someone like him up, he was a dream come true. Cuban is not only out of it, he was never in it."
[
Chi-ball
] •
What, No Shirtless Dan Patrick?
The 25 sexiest sportscasters in the world. Count them down with me ... [
Co-Ed Magazine
] •
Irony, Thy Name Be Gorzelanny
. Remember the Pittsburgh Pirates' promotion a while back in which they distributed Tom Gorzelanny bobblehead dolls? You know, the ones that appeared to be giving the finger? Well, Gorzelanny was put on the DL by the Pirates on Thursday due to an injury to his ... middle finger. [
The Angry T
] •
Carl Monday's Work Has Been In Vain
. State with the highest number of porn site visits in 2007 was ... Ohio. [
610 WTVN-TV]
•
Once Is Never Enough With A Cub Like You
. One man's speculation on the sex lives of the Chicago Cubs. Funny. And by that I mean, deeply disturbing. "Felix Pie — Has never got past first base." [
Cubs Championship Corner
]