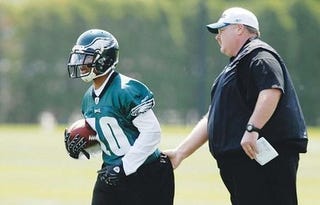 Friday. Hooray. Here's a few of the stories that made this week in Deadspin more special than the week before. Follow along: • Leitch:
Buzzsaw
• Drew:
Jamboroo'd
• Marbury:
Godly
• Brady:
Done
• Mariotti:
Tribune?
• Vince Young:
Crazy
• Linda:
Cohn'd
Have a great weekend. Please welcome
"Irish" Enrico Campitelli Jr.
into KOGOD's weekend army. He and Tuffy (Too-fay) will be handling all duties. I'll be back on Monday to get ready for game time. Eagles fans in New York — let's find a bar to revel in unison. Thank you for your continued support of D-E-A-D-S-P-I-N
Deadspin
.