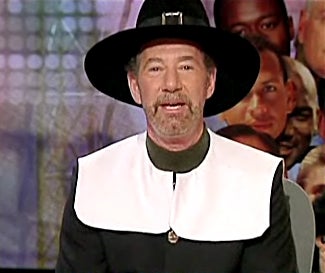 At least that's the claim that several notorious bastions of journalistic legitimacy are making .The scene: ESPN garage. The crime: Tony Kornheiser's car is stolen. The reason: TK's being stalked. Now, every Kornheiser story hasn't been legitimate around these here internet parts , but with his recent hernia surgery wouldn't now be the time for his stalker to pounce? Of course it would. And everyone knows that bald white men over 60 who dance like penguins are the leading candidates to be stalked. That's a bona fide statistic. We go to Media Bistro for the details.
We hear that Tony Kornheiser's car was stolen from the ESPN garage in DC, last week causing "mad drama," to quote one source. He dropped his keys in the garage, someone took the car and now he's demanded extra security because he claims its a stalker.
Wow, that stalker was really lucky that TK dropped his car keys. In a wholly unrelated note, Joe Theismann has been released after questioning.
Kornheiser's Car: Stolen!
[Media Bistro]
Tony Kornheiser's car may have been stolen by a "stalker"
[Awful Announcing]