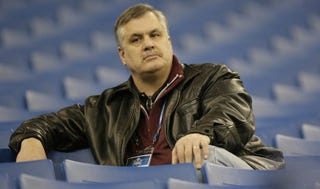 It appears
Bill Ford Jr.'s comments
from a couple days ago were either not-so-subtle foreshadowing or they were taken under consideration by those who do have authority, because according to Fox Sports' Jay Glazer, Matt Millen, the Detroit Lions oft-criticized president and general manager, is officially
unemployed
:
Millen was informed of the move last night during a late-night high-level meeting. This morning several people within the building confirmed that he had large packing boxes in his office and he made his way around to different employees telling them of the move.
It's unclear at this point as to whether Millen was fired or resigned, but it does seem odd that this decision was made so quickly after the Ford Jr. comments. More details to follow. But wow. How is it possible that this is one of the least surprising firings in sports, yet I still feel a little shocked by it?
Millen Out As Lions GM, President
[Fox Sports]
Millen Is Out!
[PFT]