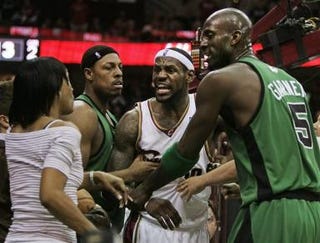 Finally, at long last, the NBA's 2008-09 regular season begins tonight. Oh, sorry, I forgot. I meant so say: It begins TONIGHT ON TNT! Except for the Bucks-Bulls game, which isn't quite ready for prime time (outside of the greater Milwaukee and Chicagoland areas, anyway). The question is: Are
you
prepared to have the skin flayed from your bones by the pure excitement of it all? If not, here's a primer for what you can expect from tonight's three-game slate. (Oh, and let me say up front that
it's unlikely that Sir Charles will be making any more suicide jokes
.)
Cavaliers versus Celtics:
The sheer hyperbole from this epic contest might cause you to spontaneously develop several open wounds. In fact, I've already got a pulpy nosebleed from just
thinking
about it. You will THRILL to the exploits of the world champion Boston Celtics! You will PEE YOURSELF as LeBron James makes us rethink what it means to be human! You will BE AMAZED by a thrilling duel between two teams battling for Eastern Conference Supremacy! Actually, it'll probably be a slogfest between two rusty teams that are trying to dust off the preseason cobwebs and figure out their rotations. However,
King James did note that
"I know I've improved five times than I was in Game 7 of the Boston series." Wow, LeBron. Really? Five times better than 45, 5 and 6? I guess we can expect 225 points, 25 rebounds and 30 assists tonight. Which, I'll admit, would be pretty spectacular. And if his mom shows up, things could get really crazy.
Bucks versus Bulls:
Ah, a matchup of teams for which the words "disappointing" and "underachieving" was used so often last season that they - or words like them - should probably be added to the team names. (My vote: Chicago "Can't believe they were picked to win the East last year" Bulls and Milwaukee "Yup, they're still in Milwaukee" Bucks. But I'm open to other suggestions.) There
are
a few reasons to watch, though. Like Chicago's Derrick Rose. He might be a superstar in the making. Regarding Rose,
teammate Luol Deng said
, "He's going to make guys better." Here's hoping he starts with you, Luol. Another reason to tune in (assuming you get WGN where you're at) would be to see if Scott Skiles gets his revenge against the team that fired him on Christmas eve, which might include a Bucks victory and/or random acts of vandalism. (I'm thinking he'll either TP the Bulls' locker room or defecate on the Jordan statue outside of the United Center.)
Blazers versus Lakers:
It's the Team of the Future versus the Team of Today. But the real
joint
of interest will be Surgically Repaired Knee (Greg Oden) versus Surgically Repaired Knee (Andrew Bynum). It'll also be interesting to see how Kobe deals with his fatigue. I mean, dude is flat-out exhausted. But not because of last season's 82-game gulag, the road to the Finals and the summer's Olympic experience. He just returned from the past, where he barely survived a failed attempt to destroy Michael Jordan before MJ could be born. Even though his plan didn't succeed, it just proves once again that Kobe will do whatever it takes to be the greatest player of all time.