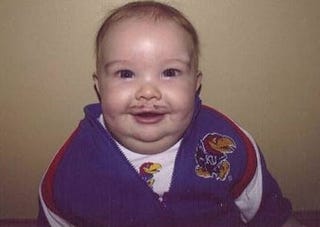 Here are some of this week's stories that didn't have anything to do with
Caitlin Davis
. • The Brady Quinn era begins...
with a loss
•
How to open a beer with ...Nazi shark!
• Joey Porter:
professional trash talker
• More trouble
for the Olson family
.• Barack Obama is elected: Some surprisingly
good reactions
and
not-so-good ones
•
Baby Mangino!
Interesting week this week. Fun, but you know... kinda Marine crazy. Brace yourselves for the Tuffy and Josh Zerkle combo in KOGOD's Weekend Army. Watch them chronicle the sporting goodness and answer all your tips and complaints. Thank you for your continued support of Deadspin. Now I must wash away the sticky film of the internet with many, many beers. See ya Monday...