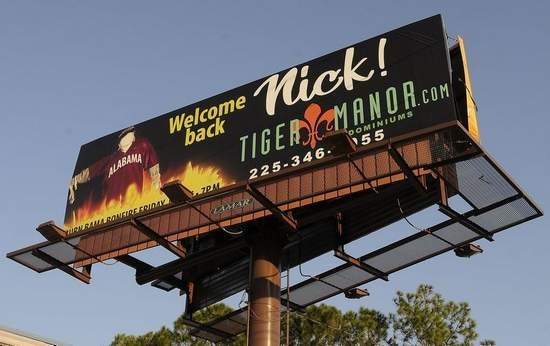 On Saturday we posted about LSU fans burning Nick Saban in effigy , which seemed rather hateful and extreme, even for them. Turns out, though, that it was all a promotion for a Baton Rouge condominium company, which provided free food and beer for the students to show up. Corporate schmucks promote hate, burn college coach in effigy in order to sell a few condos? You go, American economy. (But on second thought, free beer ...). The info is kind of buried in this Tuscaloosa News article :
The billboards went up all around town last weekend, making them all but impossible to miss even though not one LSU player admitted to seeing them. "Welcome back Nick," they stated, though the effigy and flames were more than a tip-off to the intended meaning. The eight to 10 signs were an advertisement/public relations stunt for the "Burn Bama" bonfire at Tiger Manor condominiums near campus, which had been held before but failed to draw much attention. This week, the office phones hardly stopping ringing.
Tiger Manor is a luxury condo gated community (among the amenities are cherry cabinets, slab granite, breakfast bar) to which the typical LSU student would not even be admitted on a day pass, no doubt. It's actually partnered with the university through LSU Sports Properties, with signage in and around campus calling itself "The Official Condominium Complex of LSU." Not mentioned in its
list of amenities
, however, is the occasional parking lot hate barbeque in which students are encouraged to roast brats, chicken and former coaches. As we know from
Lord of the Flies
, such unbridled revelry around the bonfire usually ends with Simon getting speared to death on the beach. Thanks for working up the natives, Tiger Manor. In the future, however, be aware that college kids don't need your help
in acting like douchefucks
.
Saban's Return Might Be A Hostile One
[Tuscaloosa News]
Tiger Manor Condominiums
[Official Site]