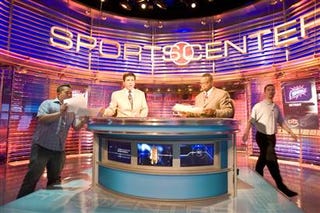 Last night was supposed to be a crowning achievement for Deadspin, LLP. The
Phil Savage email story
was scheduled to be on the late night SportsCenter, but was then axed by the producers because the night was was supposedly "heavy." I was even sent a copy of the opening to the segment: "Story on SportsCenter. It begins : As someone who has been the punchline on Deadspin - you don't want to be the punchline on Deadspin ....." See? That would've been kind of cool. Granted, Deadspin has been mentioned on plenty of other ESPN programs, either intentionally or unintentionally, by fans of the site who work there, who know they're not supposed to be talking about it, for whatever reason. But not SportsCenter — not the show pony. Last night was an opportunity for that to happen. The relationship between ESPN and all sports blogs, as you know, has become more transparent. They know of their existence, they'll acknowledge when necessary, and, one day, one of those blogs that has tweaked ESPN in the past will get their proper acknowledgment. Then everything will really go to shit. This week's stories you may have missed for whatever reason. •
Simmons quits his podcast
•
SHOTY nominations
•
Brett Favre — Fuck Yeah!
•
Was the dimwitted USC Song girl really cheering for Texas?
•
Deep inside the A-11 offense
•
The Fire Joe Morgan farewell interview
That's it. Go take a nap. Next week, will be very short. And next Friday — I'm going all Wayback Machine. Rick and Dash will have the day off and I'll be doing a half day on Deadspin like it was 2006 and I was subbing for Leitch and just trying to test his patience. So, expect a Cultural Oddsmaker and 12 other posts with inappropriate tags that will help us all remember that I once had a pulse that pumped hot urine. Sarah Schorno will be handling the weekend duties — treat her well. Thank you for your continued support of Deadspin, who's most definitely not now. Who's Now?
SKEETS.