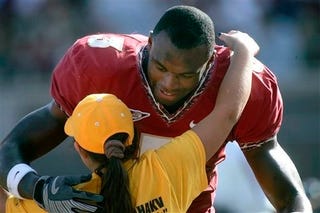 I'm sure you've heard the tale of
Florida State safety Myron Rolle
, who won a Rhodes Scholarship on Saturday afternoon in Alabama, then flew to Maryland (on a plane, we assume) played in his team's game that night, then killed a wild boar with his bare hands and fed his entire squad with it at the post-game meal. He's very accomplished. But so what? Surely, starting on defense for the mighty Florida State Seminoles is more impressive than being a gigantic nerd. So why would Rolle even bother with some silly scholarship—when he already has a full-ride to FSU? For starters, Rolle gets two free years of study at Oxford University, which is slightly harder to get into than Florida St. (He graduated in 2.5 years, while playing full-time D-I football, if that tells you anything.) He hopes to earn a master's degree in medical anthropology and then open a clinic for poor people in the Bahamas. But couldn't he just do that with the money makes in the NFL? Perhaps, but it seems that in some circles, being a Rhodes Scholar is considered quite prestigious! Presidents, senators, governors, Supreme Court justices, captains of industry, and other leaders in politics and business are among the roster of previous winners. President Bill Clinton, Newark mayor Cory Booker, George Stephanopoulos, Nicholas Kristof, Sen. Russ Feingold, Gen. Wesley Clark, Sen. Richard Lugar, Edwin Hubble (the telescope guy) and Kris Kristofferson (not joking) are all former Scholars. Even Commie lesbian TV hosts like Rachel Maddow have won it. It's also a very exclusive club. There's about five million eligible college students—give or take—in the U.S., but the Rhodes Trust only awards 32 scholarships per year. That's barely enough to field a football team. So money, prestige, bragging rights (and a little book learnin') are all good things. But how could an athlete compete with math nerds and rocket scientists for an academic award? Actually, it turns out that being an athlete is part of the job description. The original
Cecil Rhodes trust stated
that criteria for selection should include "energy to use one's talents to the full, as exemplified by fondness for and success in sports." (This was back in the old days when athletes were supposed to be upstanding members of society.) So obviously many former athletes have won Rhodes Scholarships. A former Florida St. shot putter won in 2006, the other winner from Rolle's district this year played tennis at Duke, and
the roster of Rhodes jocks
includes running back/Supreme Court justice Byron "Whizzer" White; Princeton's Bill Bradley; NBA and Olympic hoops star/future congressman Tom McMillian; 1958 Heisman Trophy winner Peter Dawkins; and former USC and Rams QB Pat Haden. But perhaps the most impressive Rhodes Scholar of all is
Bob Hawke
, a former Prime Minister of Australia, who rose to great acclaim during his time at Oxford by setting a Guinness World Record—for downing a yard of beer (that's 2.5 pints) in just 11 seconds. You're in fine company, Myron.
Rolle Wins Rhodes Scholarship
[NY Times]
Rolle walks the Rhodes, shouldn't we talk Heisman?
[Sportsline]