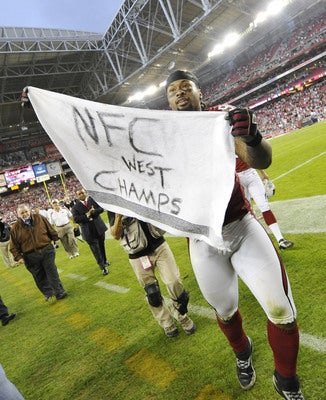 Of all the pictures taken during The Buzzsaw That Is The Arizona Cardinals' NFC West-clinching "win" over the St. Louis Rams on Sunday, that one there is my favorite. It is somehow perfect that, when the Arizona Cardinals won their first division championship since 1975 (the year I was born!), the most sophisticated signage they'd have ready would be something a player wrote in magic marker on the back of a towel. Yep!
(You can find all the pictures right here, lest the Arizona Republic get mad at me for blatantly stealing borrowing their photo.)
I watched the happiest Buzzsaw moment ever from a bar on the Upper East Side, with a friend who has gleefully decided that, hey, now I'm an Arizona Cardinals fan! I have no problem with this, because, for once, I have someone with whom to watch a Buzzsaw game. I know it's not real, I know he's only bandwagon pretending, and I do not care. If you have someone accompanying you when you ask to put the Arizona Cardinals game on, the bartender is less likely to make you watch the tiny black-and-white television in the back of the bar.
Still, I couldn't help but wonder how nice it must have been to be in Glendale. Lifelong Buzzsaw fans, there, in person, on the day they finally broke through. How electric must that atmosphere have been? Well, take it from the Arizona Republic's Kent Somers:
The attendance was announced at 63,270 but there were more empty seats in this game than I can remember for any Cardinals game at University of Phoenix Stadium. And many of the fans had left well before the game ended. Maybe the fact that a division title was pretty much in hand weeks ago made staying around less attractive.
Uh ... excuse me?
A year-and-a-half ago, I asked a fellow lifelong Arizona Cardinals fan, albeit one who grew up in Arizona, what it was like actually being a season ticket holder. I'd never been to Arizona at the time, and I've still never been to a game. He was there Sunday. Here's how he described the scene: