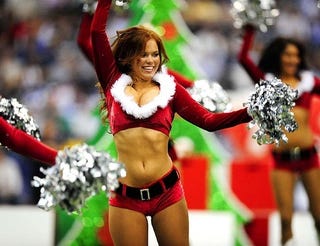 Weather threatens in Buffalo and Houston (despite the dome), Detroit threatens to actually play, and Ed Hochuli threatens to be mentioned no less than 87 times tonight.
First: Your NFL Maps. Please note the distinct lack of a Monday night game; the NFL will bravely squeeze their entire schedule into one day. Stay strong, NFL; we're there for you.
According to the NFL Network (via Fanhaus), today's Patriots-Bills tilt in Buffalo may actually be delayed due to 50 mph winds that have... well, tilted the goal posts. That's certainly one way to cover for quarterback inadequacies.
Another would be to play your final game in a stadium with holes in the roof that force it to stay open during a downpour, such as in Houston. Kyle Orton may not even be able to complete any of those untimely interceptions and Matt Forte may be a classic mudder. Well-timed, Chicago; let's see if the Vikings counter with a frog infestation in the Baggiedome to cover for Tarvaris Jackson.
Late player news:
• Try to brace yourself: Mike Brown ends the season on IR.
• Tony Romo will play today despite having the dreaded "flu-like symptoms" this week. It's better than the funk, we guess.
• It's fair to say that any team listed below as "in" will play their starters for about six plays, especially in Indy. Exception: Arizona, for reasons that only make sense if your team has been to the playoffs about as often as Truman Capote attended Harper Lee book release parties. The National Football Post has the latest.