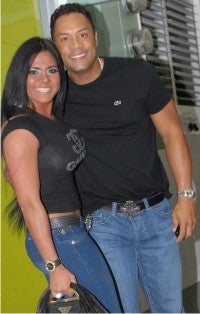 So here's Roberto Alomar's new girlfriend, and from the looks of her she'll claw your eyes out just on general principle. And suing her boyfriend for millions? You do not want to go there, bitches.
Her name is Maripily Rivera, and Home Run Derby has a bunch of other photos of her (some NSFW). Plus, the Toronto Star gives us other details, including the fact that the model is described as "Puerto Rico's equivalent of Paris Hilton." OK.
Alomar's former girlfriend, Ilya Dall, is suing the ex-All Star for $15 million, claiming that he knowingly exposed her to the AIDS virus by insisting that they have unprotected sex. Alomar calls her contention "a bunch of lies."