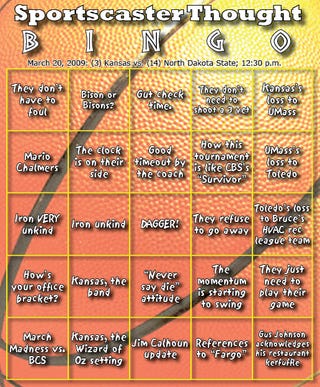 Your live blogger for this game will be Teddy from Gowanus Rotisserie Baseball Gazette. That's actually the shortened name. His full name is "Theodore."
Greetings, square-staters! I'll be your substitute Sussman for this first-round game between the Jayhawks of Kansas University and the Fightin' White Guys of North Dakota State. If Vegas is to be believed, this is the 3-14 matchup most likely to produce an upset this year, an outcome that would likely lead to gangs of Kansans and North Dakotans fighting pitched battles somewhere in the vicinity of Wall Drug. Which would be awesome, so let's hope the game lives up to expectations.
For those who don't yet know, I'm delighted to report that those of us with access to the telecast of the game will be treated to the comedic stylings of Gus Johnson. Let's all pray the food vendors in the arena have their tasers on them.