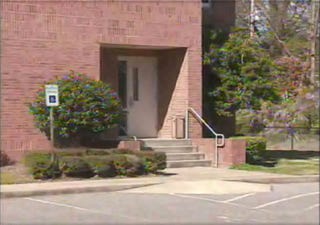 The Door is blowing up! It has devotees, worshipers, even its own Facebook fan group. The vigil continues.
This thing is reaching mythic proportions. The Door and everyone associated it with are bona fide internet celebrities. Who knew that the simple steel hatchway of a Conference USA athletic department could enthrall an entire nation; nay ... an entire planet. (It's even more popular than The Gate at the coach's house.) Who gives a crap where John Calipari ends up? The Door should be the one getting a $4 million deal.
Personally, I can't wait for "The Door: The Movie." Starring Morgan Freeman as the grizzled veteran reporter about to stumble on the scoop of a lifetime, Reese Witherspoon as the plucky Lois Lane-type who is about to learn a lesson they didn't teach her at journalism school, and Hugh Jackman as ... The Door. It will make Ironman 2 look like Leonard Part 6.
The latest word now is that the University of Kentucky has dispatched a private charter plane to Memphis in order to pick up ... THE DOOR!! What a Cinderella story!
THE DOOR!! [Facebook]
Door Watch + Gate Watch [MyFox Memphis]
Calipari Watch, Day 2: Pretty Blonde Reporter Is Latest Victim Of The Madness [Deadspin]
Calipari Headed To Kentucky, Door Likely To Follow As Assistant [Sporting Blog]