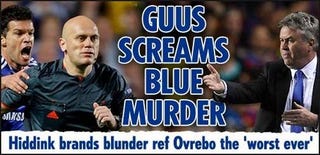 Barcelona pulled off a miraculously late rally to win their Champions League semi-final slugfest over Chelsea yesterday, but the defeated English are having some trouble coping. At least no one has hung themselves! Yet.
The team doesn't even seem that upset about the 93rd minute game-tying goal from Andres Iniesta—although that definitely had to sting. (A tie equals a win for Barca thanks to the "away goal" rule. We're learning so much about soccer!) It's mostly the feeling from Blues players and fans that the DutchNorwegian referee, Tom Ovrebo, was in the tank for the Spanish team. The ref in question also had a feeling that he might be murdered by hooligans after the match and had to smuggled out of the country like a fresh pound of Amsterdam'sOslo's finest.
On the other hand ... it's difficult for Chelsea to cry about officiating when they were the beneficiaries of the worst call of the match—a red card on Barcelona's Éric Abidal for standing too close to Nicolas Anelka as he tripped over his own feet. That gave them a 25-minute power play that they failed to capitalize on and you can't blame a referee for that. However, the idea that UEFA would mess with Chelsea just to avoid a second-straight all-England final is still completely reasonable because fuck those guys, right? David Stern would be proud.
Chelsea backing for Didier Drogba's foul-mouthed rant [ESPN Soccernet]
Angry Chelsea Goes a Finger Too Far [NY Times]
Blues condemn death threats [Sport Box]
Andres Iniesta - The Most Deserving Barcelona Hero [Goal.com]
Hiddink screams Blue murder [The Sun]