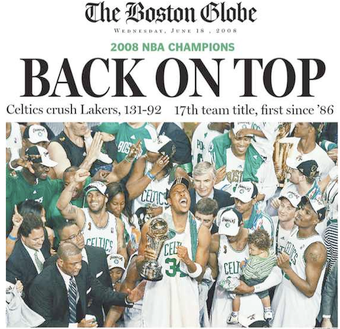 The Red Sox and Bruins own NESN. The New York Times, at least for now, controls a minority stake of the Red Sox. And soon, the Celtics might join the incest between Boston teams and the outlets that cover them.
On Friday, the financially struggling Globe reported that three locals with millions in loose change had emerged as potential buyers of Beantown's newspaper of record, which The New York Times is actively trying to sell. (Newspapers, if you haven't heard, aren't doing so well.)
Behind Door No. 1: Stephen Pagliuca, managing partner of the Celtics.
Pagliuca's day job as the managing director of Bain Capital gives him the kind of cash to pay for Kevin Garnett and potentially dole out the loot necessary to purchase a far-less-intriguing commodity. No one really knows what the Globe is worth — estimates range from $1 to much, much more — but if Pagliuca scores the newspaper, you would think he would have to immediately address the obvious conflict of interest in his owning the Globe's sports section, once the best in the country and still a veritable powerhouse, while presiding over one of the local teams.