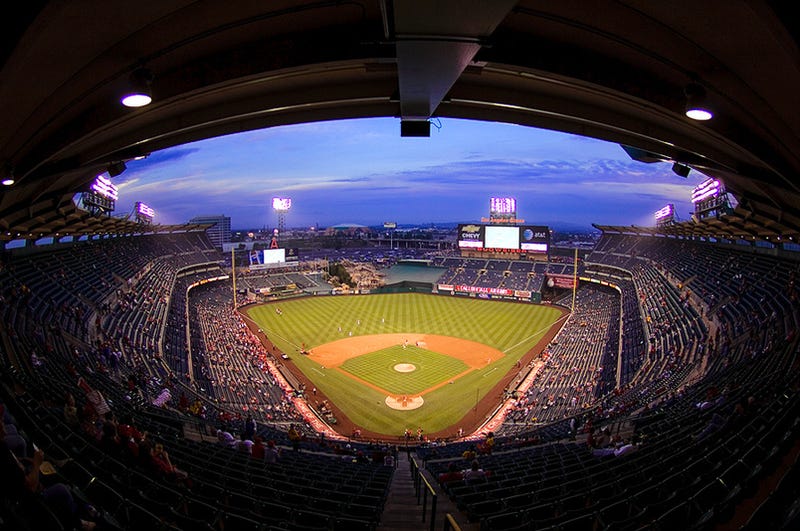 This is a new weekly feature in which I (and maybe you, too, readers) detail the various reasons for hating your ballpark. This week: Angel Stadium.
Lost Angels: The Los Angeles Angels of Anaheim's Angel Stadium of Anaheim. Say it soft and it's almost like praying. The stadium is a nondescript slab of suburbia whose sole defining characteristic over the years has been its bipolarity. Opened in 1966, it was first a baseball stadium (for the California Angels), then it was a baseball and football stadium (in the latter case for an NFL team based in Los Angeles that would eventually move to St. Louis), then it was a baseball stadium again (first for the California Angels, then for the Anaheim Angels, now for Los Angeles Angels of Anaheim). It has been an open-outfield stadium, an enclosed stadium, and now it is open once more. It has been known variously as Anaheim Stadium, Edison International Field of Anaheim and now Angel Stadium of Anaheim. The stadium — and the franchise — has retained so little of the character and history of the region it's inhabited for nearly 50 years that it feels compelled to remind you with autistic repetition just where it's located. Which is in Anaheim. The place doesn't need a renovation. It needs a shrink.
Fuckin' A: Angel Stadium once offered a nice sense of place — in particular a big, Googie "A" in left field that served as a scoreboard. It was tacky, but in a distinctly SoCal way. After wins, it would light up, and Dick Enberg would say, "And the halo shines tonight!" In 1980, when the stadium got a facelift to accommodate the arrival of professional football, the "A" was moved. It now overlooks that most iconic of California vistas: a highway and a parking lot. What quirks remain today, after the Disney-sponsored renovations of the late 1990s, are at best wholly contrived. If the ballpark has any signature now, it's the pile of fake rocks in center, which looks as if it had been trucked in from Jellystone Park. Alas, Angel Stadium is now left with only one element that truly captures the character of the region. On clear nights, if you look close enough, you just might be able to see a distinguished older gentleman skeeving on a young girl.