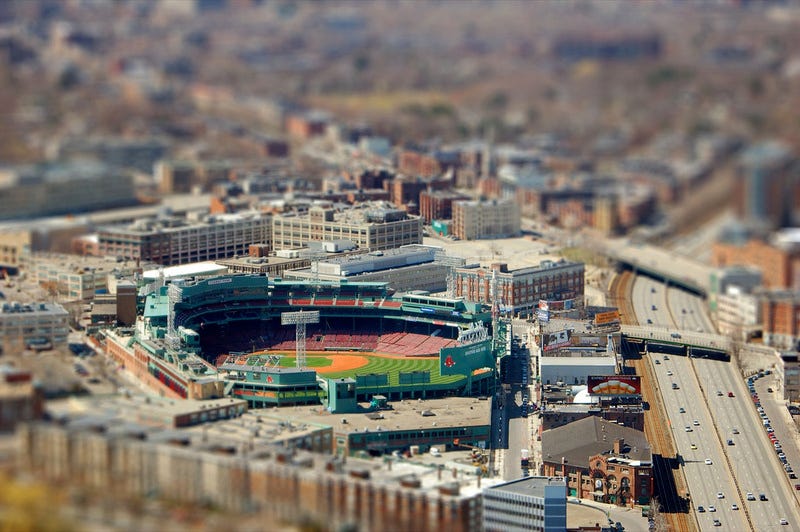 This is a weekly feature in which I (and maybe you, too, readers) detail the various reasons for hating your ballpark. This week: The Boston Red Sox's Fenway Park.
Nothing — with the possible exception of flowers, springtime and the 3rd Earl of Pembroke — has inspired as much gooey bad poetry and aphoristic nonsense as Fenway Park. If Fenway didn't exist, we'd have to toss a bunch of Harvard professors in a room to invent it, which, not incidentally, is how we also wound up with a war in Vietnam. "Fenway Park, in Boston," John Updike famously wrote, "is a lyric little bandbox of a ballpark. Everything is painted green and seems in curiously sharp focus, like the inside of an old-fashioned peeping-type Easter egg."
I have never been on the inside of an Easter egg, peeping-type or no, but I will bet good money that it is nothing like Fenway, a steaming pile of steel and concrete resting on top of marshland that Boston didn't get around to filling in until the late 19th century. Somewhere along the line, however, the crooked old dump became a shrine for the local fancy classes. "I think walking up to Fenway is thrilling," the late David Halberstam once said. "The approach to it. The smells. You go to Fenway, and you revert to your childhood. You go to Fenway, and you think: 'Something wonderful is going to happen today.'" Quoth Stephen King: "There's no place like it, and it's ours." (We haven't even mentioned Donald Hall, whose poetry, without Fenway, would be just a couple of conjunctions and the word "snow.")
This is just a new, sporty strain of that old New England exceptionalism that John Winthrop was preaching back in the 17th century. The thinking runs thusly: Fenway, like its tenants, is somehow different, purer, a perpetual innocent in a fallen, godforsaken world. "The Yankees belong to George Steinbrenner," Sports Illustrated's Steve Wulf wrote in 1981, "and the Dodgers belong to Manifest Destiny, but the Red Sox, more than any other team, belong to the fans."