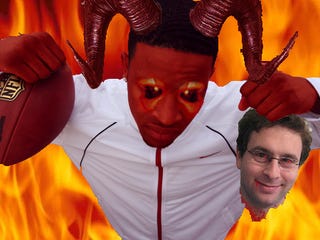 To the naked eye, Michael Crabtree's holdout symbolizes two things: greed and stupidity...but pure evil? SI's Michael Rosenberg reveals the twisted truth behind San Francisco's stubborn rookie.
Michael Crabtree has had an unusual NFL career so far, wouldn't you say? He was drafted in April, and since then, he has played zero games and grown two horns."
[...]
And its a bad, bad time to be a holdout in the middle of the Great Recession, with millions losing their jobs, everybody worried about health care, people starving in Africa, etc."
Nice guilt trip, Rosenberg—although I can't say the tactic is too surprising coming from the likes of you people, by which I mean sanctimonious SI columnists.