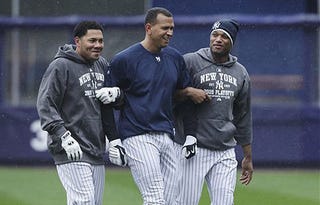 In sports, everybody is a winner—some people just win better than others. Like Alex Rodriguez, who won the weekend by making everyone forget how much they hate him. Take his hand and he'll lead you there....
Remember back in April when A-Rod's entire career was in danger of becoming the punch line to a terrible joke about steroids? People were wondering if any of his 500+ home runs could be considered legitimate. Now he's the new Mr. October. Seriously, everyone is saying it now. Every. One.
In five playoff games, he has 3 game-tying home runs in the 7th inning or later. He leads his team in hits, batting average, home runs, RBI and smiles. He might be more fertile than ever. Even a New York tabloid is forced to admit that Alex is the man this year. He's a dream teammate. Mr. Clutch. Dare I say it ... a true Yankee?
As usual, winning cures everything. Even bacne. (Oh, good. The bad jokes are still available.)
Alex Rodriguez is the main reason why New York Yankees are up 2-0 in ALCS [New York Daily News]
A-Rod morphing into new Mr. October? [Yahoo! Sports]
A-Rod has become 'Mr. October' [AP]
[Photo: AP]
* * * * *
Here are some other big winners, who did not win quite as big:
The New Orleans Saints: Seven touchdowns to seven different players against a "real" defense, should pretty much make them the team to beat (for now.) Plus, Drew Brees has enough grit to fix a dozen levees. [USA Today]