We asked for more. You delivered more....and more....and more. Whether it's a duct taped Brett Favre jersey or turning a beer cooler into a motorcycle, America has not lost its ingenuity, nor its desire for custom, DIY nonsense.
Volumes One and Two of our custom jersey showcase were fun, but now things have stopped being polite and are starting to get real. Like really, real. Bragging, insults, racism, homophobia, alcoholism, terrible penmanship. This round has it all. No topic is so taboo that someone won't try and pay the NFL Shop to put it on a shirt. Behold this terrible peek into the psyche of a troubled nation.
And once again, if you've got more, keep sending them in. This bad medicine is what I need.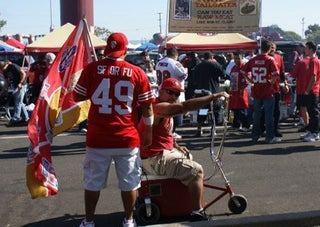 S
The jersey itself is fantastic—whatever it means—but I'm more interested in his friend, who is apparently riding a cooler. Now THAT'S some serious customization.
[Submitted by Dunstan D.]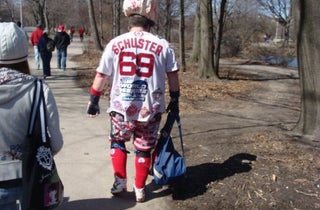 S
This is our second run-in with "Schuster" who is apparently a multi-sport star. New England really knows how to produce winners.
[Submitted by Kegan L.]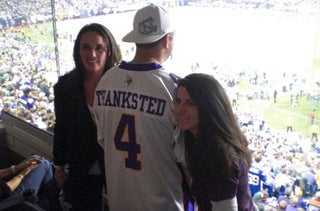 S
Far too many of these involve some variation of a Favre jersey. When Wife of Favre gets in on the act, you know you've jumped the shark.
[Submitted by Adam W.]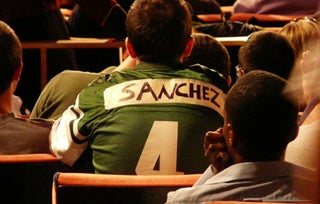 S
Finally, a Jet fan is rewarded for wishful thinking. Actually, I guess five interceptions against the Bills is more of a gift than a reward.
[Photo by Marianne O'Leary - @ 2009 NFL Draft]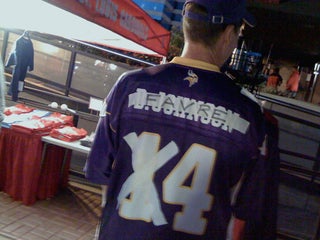 S
Well, that's one way to reduce, reuse, recycle.
[Via JoeSportsFan]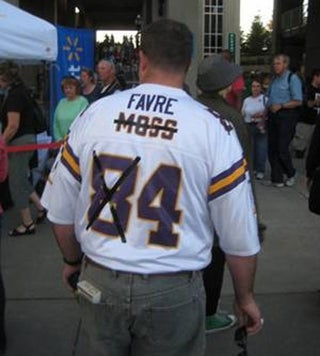 S
And that's another. Come on, guys. You saved enough paper route money to buy a shirt once, you can do it again.
[Submitted by John L.]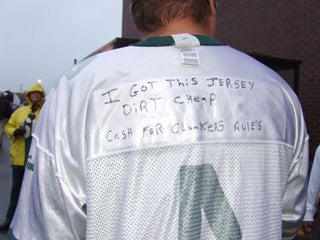 S
Politics, Favre, bad Sharpie work, unnecessary apostrophes, and the jersey is inside out. It's perfect. And I still don't understand it.
[Submitted by Joe S. - seen in Minneapolis.]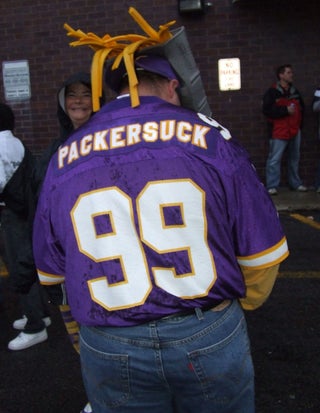 S
Yeah! And what's up with the stupid cheese things they wear on their heads?
[Also submitted by Joe S. in Minneapolis.]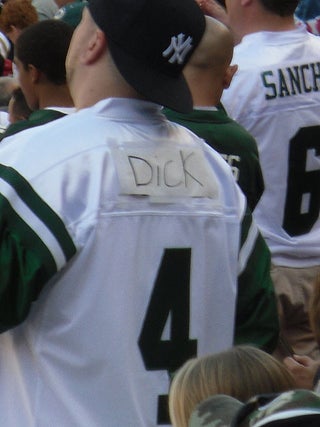 S
[Submitted by Frank G - "Here's 2 custom jerseys I spotted at the recent Jets/Pats game. I also feel that with the first one, it should be noted that it wasn't merely just an anti-favre statement with duck tape and a sharpie, but he also managed to make a myriad of "what's a dickfour" jokes... the best of which was when someone's not-too-football-savvy girlfriend asked him something along the lines of "Who's the Dick Four?" or "Who's Dick Four?" and he seemlessly responded "The dick's for you babe."]
Then they totally did it right there in the stands, right? That HAS to be how the story ends, right?!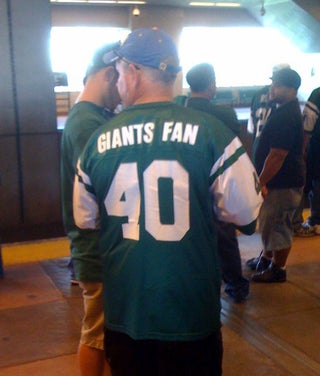 S
I don't ... what?
[Also submitted by Frank G.]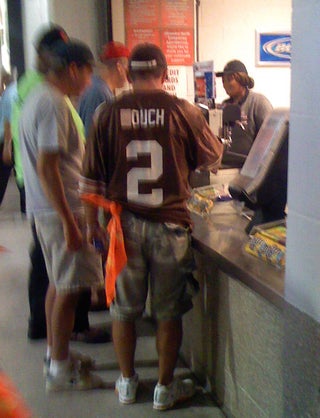 S
The sad part? That's actually Tim Couch.
[Submitted by Jeff G.]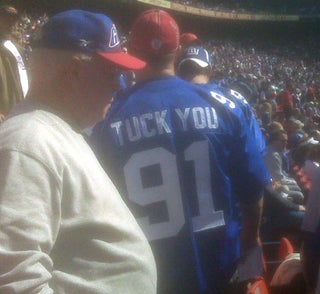 S
Tuck me? Tuck me into bed? Oh, how very thoughtful! Such nice fans!
[Submitted by Peter F. - seen "@ the Raiders-Giants game"]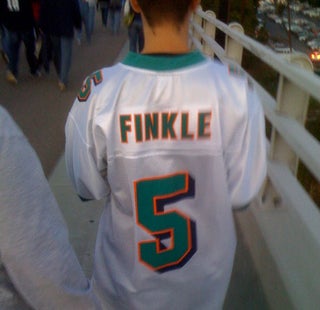 S
Einhorn is a man?!
[Submitted by model American Jason S.]

S
Worst Ben and Jerry's flavor ever.
[Submitted by Seth - @ UT-Colorado game]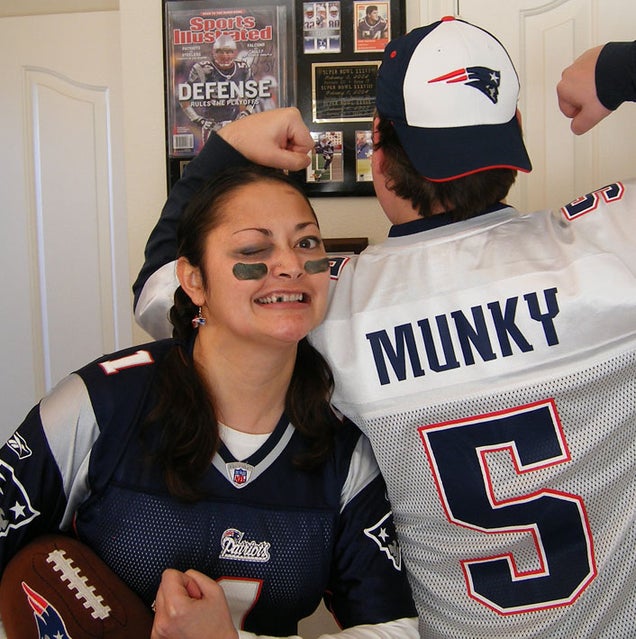 S
Have you guys met Schuster?
[Submitted by ... "Munky," I guess. - "This is my wife and I in my study. Too bad I don't had a shot of her name. It says "Bruiser" on the back. hahaha"]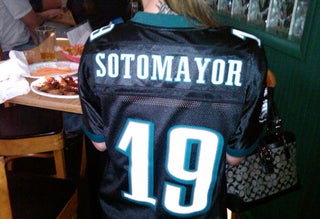 S
Why is she leaning to the left?
[Submitted by Thomas D. - seen at "a bar outside of Philadelphia"]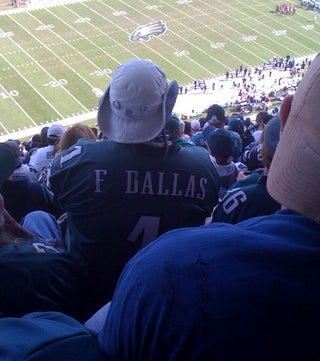 S
Finally, a shirt we can all agree on.
[Submitted by Jeremy S.]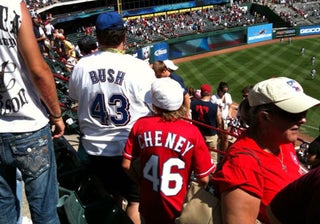 S
Wait, Cheney is going to be 46? Oh man. I guess I'll hold on to that Halliburton stock.
[Submitted by Sean J. - "At the Red Sox v. Rangers, August 16th. Guy behind us was trying to figure out why Bush was 43, "I guess it's Nolan Ryan's number [34] backwards or something?"]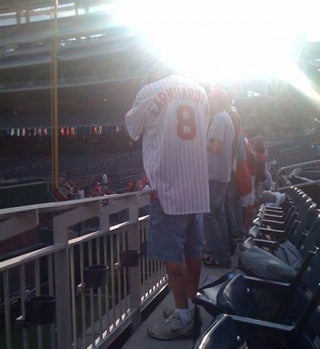 S
That's not a lens flare. That's Dale Sr. up in heaven. His head just exploded.
[Submitted by George M.]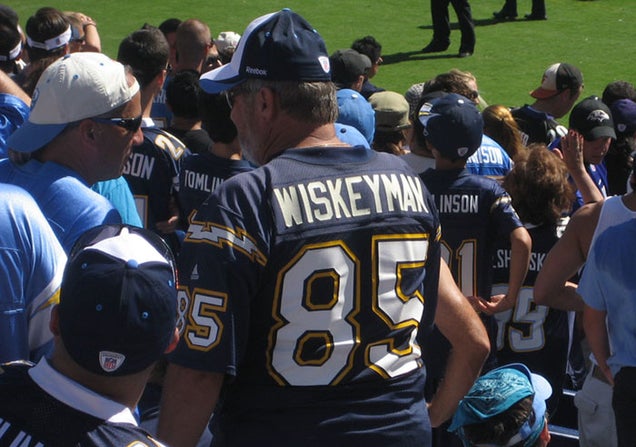 S
I still say he's the hardest Mega Man boss ever.
[Submitted by Kaiping S. - "at the chargers vs ravens game"]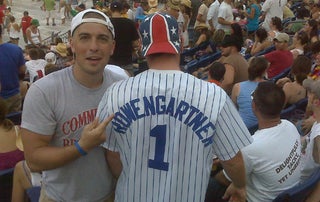 S
This guy has intentionally broken his arm six times and still can't throw a fastball over 60 m.p.h.
[Submitted by Norman D.]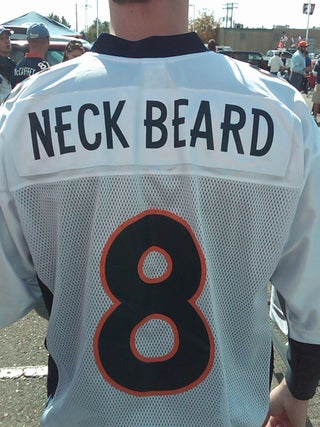 S
The classics never go out of style.
[Submitted by Rosco]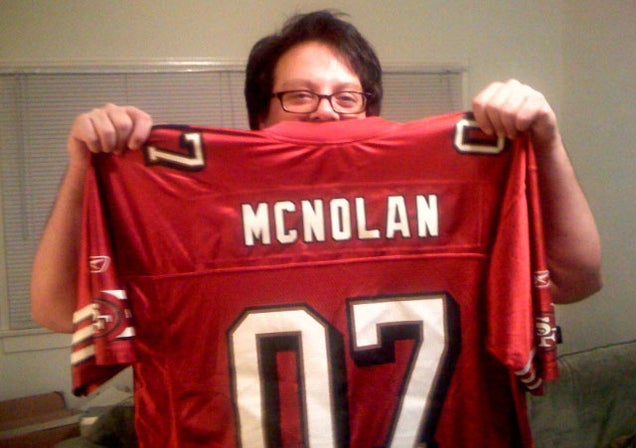 A sad reader writes: "I was so excited about the new 49er regime, of Mike Nolan and Scott McCloughan, that I stupidly got this jersey...they went 5-11. Ugh. Feel free to print my stupidity."
[Submitted by Ryan (last name withheld to protect his family)]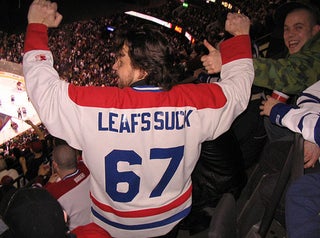 S

[Submitted by Kid Canada - "It's a Montreal Canadiens jersey that says LEAFS SUCK 67 on the back, '67 being the last year the Leafs won the Stanley Cup. How Canadian am I? Not sure if this guy wears the jersey when the Canadiens are playing, say, the Minnesota Wild."]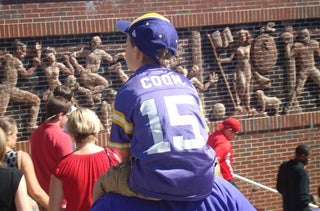 S
Um ... are you allowed to do this? Even in Louisiana? I don't like this game anymore.
[Submitted by Noah L. - taken @ LSU-GA game]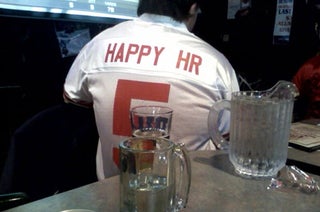 S
I think the empty pitcher also explains why he thought it was a good idea to buy this jersey in the first place.
[Submitted by Matt D.]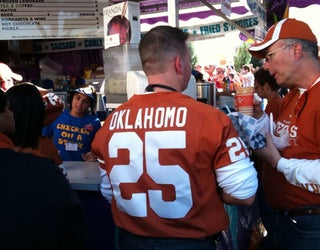 S
Just so we're clear: You're the one with the football jersey expertly tucked into your jeans. Also, you're eating "Chicken on a Stick," so I'm not sure you're allowed to mock anyone at this point.
[Submitted by Katie C. - taken UT-OU game]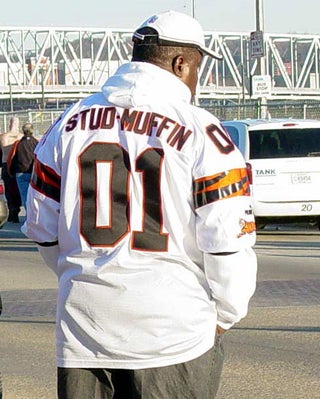 S
"What do I do for a living, little lady? Read the jersey."
[Submitted by R. Bradley]