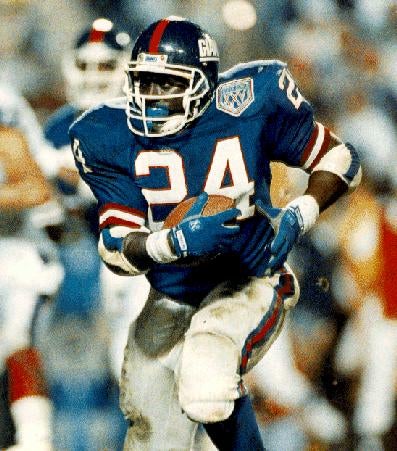 Drew Magary's Thursday Afternoon NFL Dick Joke Jamboroo runs every Thursday during the NFL season. Find more of his stuff at his Twitter feed.
Mike Shanahan is probably coming back to coach in the NFL in 2010. Stefan Fatsis says the former Denver coach has been preparing to return to the league by watching five hours of a tape a day (I assume he spends the rest of the day felling redwoods with that mouth of his). Wherever Shanahan ends up, if he ends up in your town, do me a big favor. You walk right up to that man and punch him right in the cock.
People have bitched for years that Shanahan is anecdotally responsible for popularizing running back committees. Well, six weeks deep into this NFL season, we have empirical proof. There are only, currently, five NFL running backs averaging over 20 carries per game: Adrian Peterson, Cedric Benson, Mike Bell (who figures to drop off this list shortly), Steven Jackson, and Michael Turner. Benson leads the league with 21.2 carries per game. Over the past decade, that's the lowest average number of carries needed to lead the league.
Since 2006, there has been a dramatic decrease in the number of running backs leaguewide who get fed the ball 20 times or more per game. Here is the number of 20-carry running backs in the league year-by-year over the past decade, with the league leading carry average highlighted:
1999: 9 backs (22.1 led the league)
2000: 8 backs (25.2 led)
2001: 8 backs (22.1 led)
2002: 7 backs (23.9 led)
2003: 13 backs (24.5 led)
2004: 12 backs (24.6 led)
2005: 11 backs (24.0 led)
2006: 9 backs (26.0 led)
2007: 4 backs (21.5 led)
2008: 4 backs (23.5 led)
2009: 5 backs (22.1 led)
So, since 2006, the number of backs who usually get more than 20 carries per game has been effectively sliced in half, the workhorse back being phased out for those delightful Marion Barber/Tashard Choice/Felix Jones platoons that make you want to dunk your head in a vat of fucking battery acid.
I don't begrudge coaches for doing this. There's more than enough evidence out there to show that running a single back 5,000 times in a single season doesn't do wonders for their durability. BUT… not all running backs are made equal. For example, Emmitt Smith ran for over 20 carries a game for seven of ten seasons during the 1990's, and that doesn't even include postseason appearances. Rotating running backs in and out of the game keeps them fresh, but it also may prevent them from getting into a rhythm. Great backs like Smith were famous for getting their biggest gains as the game wore on. The three and four yard gains they got in the first quarter often turned to six and seven yard gains in the fourth as they got a feel for the defense and knew how to exact the most damage upon them.
You don't see many running backs have games like that anymore, where they get 35 carries for 175 yards or something and completely OWN the fucking game. Games like that may take their toll on some backs. But sometimes there are anomalies like Smith, who remained an effective runner over the course of decade despite taking heaps of punishment. And, judging by his speaking skills, those hits have taken virtually NO TOLL on his mental facilities. None at all!
So quit pussyfooting around, NFL coaches. If you think you've got a potential workhorse back in your stable to thoroughly beat into the fucking ground, USE THEM. They're gonna get brain damage anyway! Come on! They're not pitchers. Don't treat them so goddamn gingerly. I'm sick of running backs being as statistically inconsistent as wide receivers. I don't wanna live in a world where people have to start Brandon Jacobs on their fantasy squad every week and then cross their fingers that he'll get more than eight goddamn carries.
The Games
All games in the Jamboroo are evaluated for sheer watchability on a scale of 1 to 5 Throwgasms.
Five Throwgasms
Falcons at Cowboys: I'm a huge fan of the NFL Network's postgame show. They show nothing but highlights instead of talking, and Rich Eisen is so fucking awesome right now, I could kiss his head stubble. As they opened on footage of a kickoff return TD last week, Eisen said, "Now, why would we show you a kickoff? Either someone scored, or someone made a booboo." It's the little things.
BUT… as tolerable as I find Deion Sanders on this show, he deserves shit-giving last week for saying, and I paraphrase, that the Redskins woes are not Dan Snyder's fault, because Dan Snyder goes out and pays for "the best players". Now, I wonder why Deion might feel that way about Dan Snyder. Couldn't be the $8 million signing bonus Snyder gifted to that fucker at the end of his career. Oh, Deion. Just when I was starting to warm up to you. FUCK YOU, COCKBREATH.
Cardinals at Giants: Eli Manning is a complicated man. One second, he's angrily berating Ahmad Bradshaw on national TV for failing to pick up the blitz. The next…
He was met outside the locker room on his way to the team bus by his father Archie and mother Olivia. His mom hooked her arm through his and they walked off together.
Would it surprise you in the least if it turned out that Eli occasionally performed amateur taxidermy and stabbed drifters to death while sobbing? No, it would not. Such a quiet boy. Such a good boy. Those are always the ones.
By the way, any time I now meet someone named Olivia, I immediately picture her as a sassy talking pig-child. Best kids' books ever? Best kids' books ever. Even the author's name is cool.
Also, big ups to Arizona last week for pulling off the surprise pooch kickoff, the cooler version of the surprise onside kick. Surprise pooch kickoffs are fucking awesome.
Vikings at Steelers
Four Throwgasms
Saints at Dolphins: From the still hungover Matt Ufford comes Awful PR Quotes. Nice. It's like Access Hollywood in print form.
Bears at Bengals
Three Throwgasms
49ers at Texans: Your top scoring player in fantasy football after six weeks is Mr. Matt Schaub of the Texans. Mr. Ufford has Schaub and Tom Brady on his fantasy team. He never knows which one to start any given week, and he always ends up choosing wrong. And he's terrified that he'll end up trading the wrong one. This situation will henceforth be known as Uffy's Choice. If you see Ufford on the street, be sure to hug him. Maybe offer a free dry hump.
No matter how the Texans finish this season (8-8 ahoy!), they certainly are one of the league's most enjoyable teams to watch. Owen Daniels is a goddamn MONSTER.
Two Throwgasms
Pats at Bucs: And here's your London game for the year. Nice game. Honestly, why not just bomb these people?
I take this moment again to remind you college folks out there that, if you have the opportunity and parental means to spend a semester abroad, DO IT. Don't fucking question it. Don't hesitate for a fucking second. Get on that plane and go. The rest of the world loves getting drunk and fucking and getting naked in public even more than we do. IT'S TRUE! When you go to London, there are pictures of tits visible at any newsstand. People are drinking in the pubs at 9AM without a shred of guilt. Great Indian food is always within a ten-block radius. (Including fresh naan. Oh, naan. You are everything pita bread wishes it could be). It is a GLORIOUS place, and one day I will retire there and spend the rest of my life at the bottom of a pint glass, a copy of Mayfair tucked into my back pocket.
Eagles at Redskins: The intrepid Dan Steinberg (intrepid is always the word people use for reporters. I do not actually know what the word means) reports that Tony Kornheiser, freed from his pesky ethical obligations as a Washington Post employee, joined Redskins owner Dan Snyder in his luxury box during the loss to the Chiefs last Sunday. Would you have guessed – IN A MILLION YEARS – that Kornheiser and Snyder would watch a game together? Is that NOT A STUNNING HAPPENSTANCE? Anyway, TK says…
"But at the end of the half, there began a chant—Sell The Team. Sell The Team. Sell The Team.—that everybody in the box heard. The people in the box were stunned. I don't know that he heard it, because he wasn't there, but the people in the box were STUNNED."
Holy shit. Really? People in Snyder's box were actually surprised that fans were displeased with his stewardship of the fucking team? Have these people spent the past decade living in a fucking box? Are you NOT STUNNED THAT THEY ARE STUNNED?
One good thing Snyder has done? Sell beer in the stadium bathrooms. What once was an intimidating wait for the urinal trough is now a leisurely delight.
By the way, I'm really excited for the inevitable hosannas that Gruden and Jaws will be heaping on Jim Zorn during this telecast. Last year, as the Lions were wrapping up their 0-16 season, announcers practically fell over themselves to be nice to Rod Marinelli. Oh, poor Mr. Coach Man! He tried so hard! He's a good man! Bullshit. Fucking bullshit. Quit coddling these pricks, announcers. They make shitloads of money and get to boss around football players all day. They don't need a verbal rubdown from you every time they're about to see the axe swing.
Last thing about the Skins: New play caller Sherm Lewis doesn't know protection schemes and blitz pickups yet, so all his play calls will be routed through assistant coach Sherman Smith on their way to QB Jason Campbell. Hope you enjoy delay of game penalties, everyone.
As for the Eagles, at least once a year they have a game like last week where it appears as if McNabb and Reid are doing this whole football thing for the very first time. It's baffling. I know cooler heads will tell you that the Eagles are better off with those two around. But, as a fan, when your team, year in and year out, finds ways to DO THE SAME FUCKING STUPID SHIT THEY ALWAYS DO, you can't be blamed for eventually wanting to rid yourself of them entirely. At the very least, a new coach and QB would have the courtesy to fuck up in some new and different way. Maybe they'd RUN the ball too much. I'm sure Eagles fans would welcome such recklessness. Fourteen runs? Against Oakland? Holy Jesus.
One Throwgasm
Packers at Browns: Linda Hunt is back on television! Want better stamina in the sack? Picture Linda Hunt banging Anne Ramsey with a strap-on. Toss Poltergeist lady in there if you have to. THIS BONER IS CLEAR. Also a good boner killer: Meryl Streep in "Doubt". Ruins the whole kinky nun thing.
Chargers at Chiefs: My kid makes me watch lots of Mickey Mouse Clubhouse every day. I am now certain that Goofy hails from Kentucky. GORSH!
Jets at Raiders: Go, little pigeon! GO!
He's twice the receiver James Jett ever was!
Colts at Rams: Well, ESPN Horndog Day was fun, wasn't it? I have only one question in light of all this, and that's this: Who the fuck thinks "I would like to fuck you" ever works as a come on? Has that line EVER resulted in success? Has the woman ever taken that in and replied, "Oh hey, that sounds great!" Never works to try cutting the crap and propositioning a chick right off the bat. Especially if you're drunk at a bar. And perhaps a junior-level ad exec living in New York. TRUST ME.