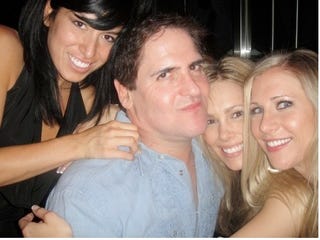 We get a massive amount of tips in our inbox each week. Some are pretty interesting, but don't get published for one reason or another.
It's usually because they're just so absurd or really lack even the most tenuous of news angles to give them the go-ahead. Other times it's because they're just absolute horseshit. But every Friday until we get sick of running them, we'll present to you some of these not-so-shiny gems. All items should be treated as [Sic'd]. Enjoy...
Thanks For Thinking Of Us While Rummaging Through Your Good Friend's Facebook
AJ,

Big fan…longtime reader, first time emailer. Check out the attached photo. This is from a good friend's Facebook profile. It sure looks to me like Mark Cuban has his way with the ladies in Vegas. Use if you'd like, but please keep my name off.

Have a good Thanksgiving.

P.S. I got some other good Vegas pics of chicks with athletes. I'll email them later.
Good To Know ND Players Are Taking Photos During Practice
Got this from a friend on the team. Jimmy's visor he is practicing with and will wear on saturday night.
Trafficking in Slieze
I am unable to find so much as an unsupported allegation of impropriety by Tiger anywhere in your latest piece of trash in what has become a steady flow a slieze. I come here often and get some big laughs, but I've just about had enough. Are you people trying to see how irresposible and harmful you can be? Bill DeMark