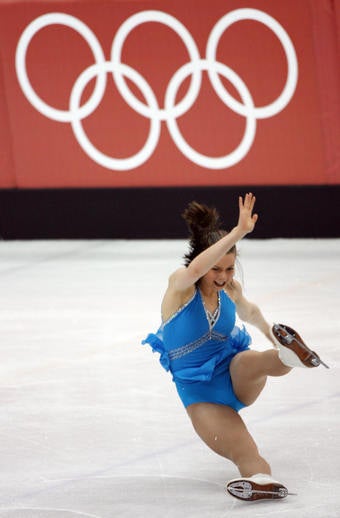 Did you know that the Jordan Palmer of amateur sports, the Winter Olympics, happens this February? It's OK — red-blooded sports fans can't possibly be expected to transition from the rough and tumble to Vancouver's prissy wonderland. Or can they?


If you're looking for uplift and a good old-fashioned cry, the Olympics are right up there with Extreme Makeover: Home Edition. These are real people with real hopes and dreams and goals and successes and heartbreaks and chances for redemption and oh my God that adorable orphan from Estonia just nailed that triple axel and we are the world…
But please, nobody follows professional sports to be happy. (Have you met a Jets fan?) In a given year there are such miniscule odds of any one particular band of brothers ending up on stage in two-toned hats and eye-rapist-designed XXXL t-shirts designed that fans have embraced, out of an almost Darwinian sense of necessity, the seedier side of sports.
Which brings us to the dirty little secret of the 2010 Winter Olympics: they are filled with dirty little secrets! Just as you can mask your musk for less with the help of those Designer Imposters ® scents ("If you like Sean John's Unforgiveable, you'll love our Bring It!"), I have no doubt you can learn to love the Games. Sit back, relax, and just let it happen.
Alcohol and Cars Combined!

If you liked… Carlos Dunlap, who was arrested for passing out in his car at a traffic light in the wee hours and ultimately got suspended for (two whole halves of) a game of minor significance.
Then you'll LOVE… Russian figure skater Andrei Lutai, who boozily lifted a Chevy Impala from a parking garage in Lake Placid after a pre-Olympic trial, blew a .18 when he was pulled over five minutes later, and earned himself a one-year ban from competition, which includes the Games of minor significance. (No word on whether he was still wearing pink gloves.) At any rate, the concept of a "one-year ban" is funny because, like, Vladamir Putin is just going to have him killed anyway.