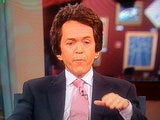 Because no one reads the newspaper, and SportsCenter's anchors are too perky for this early in the morning, Deadspin combs the best of the broadsheets and the blogosphere to bring you everything you need to know to start your day.
Good morning everybody and welcome to Deadspin, edited by me, Stev D! I hope you brought construction paper and a change of clothes, because things are going to get a little weird today. But before we get to the wackiness and stories about Marley, my lovable (and somewhat disobedient) Golden Retriever, lets do some news.
From Tiger to Octomom, it's all about the fame
As you can tell by the photo, Mitch Albom is evolving at a fantastic rate. He's becoming so advanced, he was able to write a column implying that reality TV is to blame for this Tiger mess while forcing two stranded astronauts to fight to the death in his basement sandpit.
Big 10 Conference to seek 12th member
"We're irrelevant for the last three weeks of the football season because we're not playing," Alvarez said. I am assuming the room then fell into an uncomfortable silence.
Pudge says: I will play every day.
See. The NFL Play 60 thing is working. Jerks.
****
First off, I'd like to thank AJ and the Deadspin team for letting me have this chance. This is something that I've always wanted to do, now all I have left on my list is scuba-skiing the Great Barrier Reef and eating a twice-baked potato (sooooo many carbs!).
Here's how I got here- I became a commenter on Deadspin thanks to a tip I sent Will back in 2006, which lead to this post. Then we had this e-mail exchange: