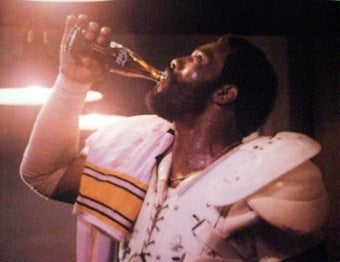 The only thing people love more than Super Bowl commercials is complaining about people who only care about the commercials. Or is it complaining about those complainers? I feel like we've had this conversation before.
The beauty of the Super Bowl advertising storyline is that it gives everyone a reason to have an opinion about the big game. (Without that connection to the rest of America, football fans would just seem more creepy obsessive than they already are.) The problem is that everyone knows this, so you don't even have to buy an ad anymore to get a plug for whatever the hell you want to talk about. Your $2.5 million doesn't pay for 30 seconds of precious airtime. It pays for two weeks of p.r. in half the media outlets in this country. Why do you think companies don't even bother to save their ads for Sunday? Why waste all that hype on people taking bathroom breaks.
The best way to take advantage of this strategy is, of course, manufactured controversy. Focus on the Family is probably still pissed that CBS actually accepted their Tebow Truth Tutorial. You just can't buy the kind of outrage that a rejection would have stirred up. (Plus, that's two very large down the drain.) If only they had ManCrunch's director of marketing. Even gay dudes had never heard of that site two weeks ago. Now their name is being broadcast on FoxNews for free. That's how you do emotional blackmail!