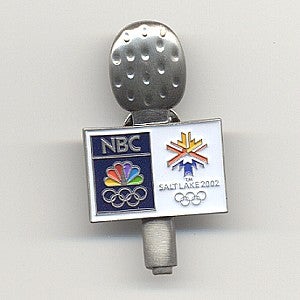 New York Times readers are begging the New York Times to stop posting Olympics results on their front page, because they just want to get news about Pakistan without having their TV evening ruined by sports spoilers. Too bad!
"Our job is to report the news," said Tom Jolly, the sports editor. He said NBC "has made a business decision to show the highlights on a taped basis. We're not beholden to presenting the news the way NBC does."
Bravo. Yes, we are not letting this go, because we are clearly not the only ones upset about this. More importantly, we can't find anyone—okay, one guy, but he likes being difficult—who seriously prefers NBC's tape-delay strategy over one that would allow people to watch an event that takes place in their time zone as it happens. You know who else thinks its a good idea? Dick Ebersol, circa 2001.
"A domestic Olympics cries out to be telecast live across the entire country as previous U.S. games have been," he said. "I am emphatic that delaying our primetime Salt Lake coverage is a mistake." [Emphasis added]
Back then, they blamed it on the affiliates, saying that West Coast stations overwhelmingly voted to have delayed coverage in order to maximize the primetime audience. Of course, that was back when AOL was still mailing the internet to your house on CD. Affiliates are now getting hammered by their viewers and NBC continues to play dumb. (Don't bother reminding Dicky about it. He changed his email.)
Meanwhile, our Canadian readers keep annoying us with their tales of the Great White North's bountiful and jingo-free Olympic wonderland. I'm really starting hate those guys. The only solace is that Stephen Colbert proved that the only thing faker than NBC's fireplace is Bob Costas' laugh. Dial it down a notch, Bob. The paycheck already cleared.